Trump ran a political ad on Facebook, calling on users to sign a petition banning TikTok.
On July 17, U.S. President Donald Trump's Facebook and Instagram accounts ran several political ads warning U.S. users that "TikTok is monitoring your privacy" and calling on him to sign a petition banning TikTok. The ads jump to a survey asking users if they think Trump should ban TikTok in the United States and prompt participants to donate to the Trump campaign.
It is the latest pressure on Tik Tok from the US government.
Over the past month, U.S. officials have made frequent noises against TikTok. On July 6th Us Secretary of State Mike Pompeo said the United States was considering banning the app for security reasons. On July 16th Larry Kudlow, the White House economic adviser, said he believed TikTok would become a US company and that the Committee on Foreign Investment in the United States (CFIUS) might force TikTok to restructure and become independent. According to the Financial Times on July 17th the US government may consider including the parent company of TikTok on its list of entities. In response, James Lewis, a technology expert at the Center for Strategic and International Studies (CSIS), said, "The government has all the cards in its hands . . . TikTok can't resist. "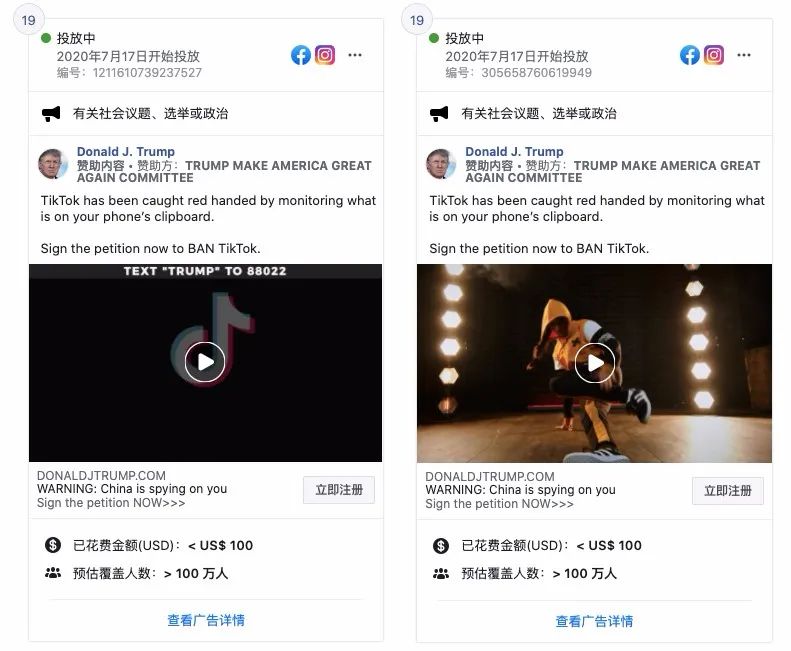 Pictured: Trump's political ads on Facebook and Instagram.

This time, Facebook, the platform for Trump's political ads, is TikTok's biggest competitor. The White House sanctions against Tik Tok are also thought to have something to do with the political lobbying of Facebook founder and CEO Mark Zuckerberg.
In July 2019, Zuckerberg admitted at an internal conference that "TikTok is the first global hit made by a Chinese tech giant" and that Facebook is developing a product called Lasso to compete with TikTok. He mentioned that TikTok has become popular in the United States, especially among young people. It has also expanded rapidly in India, outpacing Facebook's Instagram.
In the face of the rise of TikTok, Facebook is trying to continue its strategy of defeating Snapchat by copying the core functionality of each other's products and then channeling new products through a large user base and platform resources. But Lasso, which Mr Zuckerberg had high hopes for, soon failed. A year after launch, Lasso downloaded only 425,000, compared with 640 million from TikTok in the same period.
In addition to trying to copy TikTok's market, Facebook has also engaged in political lobbying to deflect regulatory pressure in the United States. Since last year, Zach Burke has repeatedly criticized TikTok in public for threatening U.S. national security and disrespecting privacy. In October 2019, in a speech at Georgetown University, he cited Tik Tok as an example of the rise of Chinese Internet companies as a huge threat to the United States. Industry insiders point out that Zuckerberg's "Chinese corporate threat theory" is intended to serve his business growth. Facebook has used the growth of its Chinese rivals as it seeks regulatory support for its cryptocurrency Libra program, according to US technology media The Verge.
---