Learn to advertise on Facebook in one day (10,000 words long)
The following articles are derived from sea notes , the author captain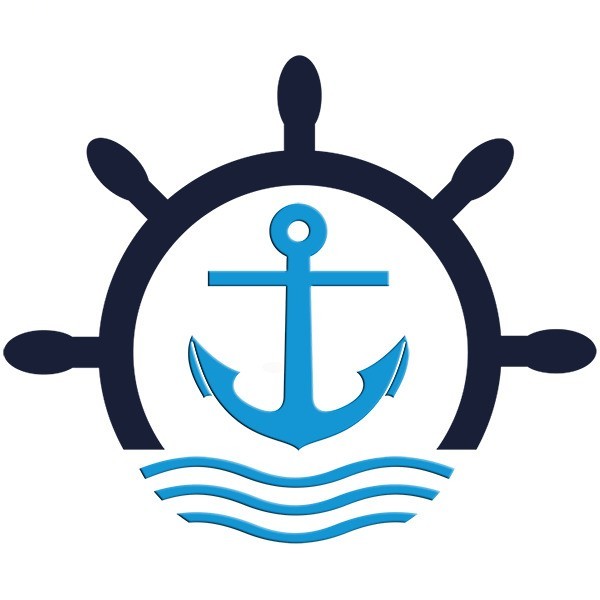 Take notes at sea
Overseas promotion and operation, do dry goods gathering place! China's first sea promotion operation learning and exchange platform.
A lot of people ask the captain, is it hard to learn facebook?
In fact, like learning to drive, learnOperation.Very simple, zero foundation up to a week, high understanding of 1 to 3 days can learn;
But to be a good old driver, drive for 3 months, 1 year, and 5 years of level completely different concepts;
The level of delivery is related to two main factors:
Depth - the magnitude of the delivery - how much money is burned

Breadth - how many projects have been invested
To become a master of delivery must go through the above two processes, and in order to let new people learn skills as soon as possible, the captain launched the "1 day quick learning to put" series, after learning this article, the account backstage practice is basically no problem:
Directory.
1 Preparation before launch
1.1 Establish a personal account
1.2 Facebook Page
1.3 Open an advertising account
1.4 Business management tools
1.5 What products are limited
2 How do I build a data monitoring Pixel?
2.1 What is Pixel?
2.2 What are the benefits of installing pixels?
2.3 How to create Pixel pixels to monitor your ad performance
2.4 Check that the pixels are installed correctly
3 Create a Facebook ad
3.1 Ad account structure
3.2 Create an ad
---
Preparation before launch
1.1 Establish a personal account
First we need to sign up for a Facebook account. Open the Facebook page and click Direct to create your account. Facebook personal accounts are like your personal WeChat, Weibo, want to use any WeChat features, must have a personal number. Similarly, if you want to use any Facebook feature, you have to start by creating a personal number.
We Facebook.com account number, fill in the basic information, complete the registration, log in to the account.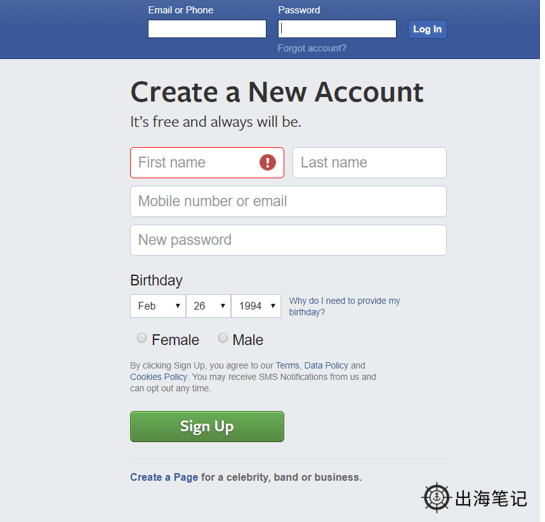 Facebook home page: point your name, you can see their own timeline, this is similar to WeChat circle of friends, you can be dynamic.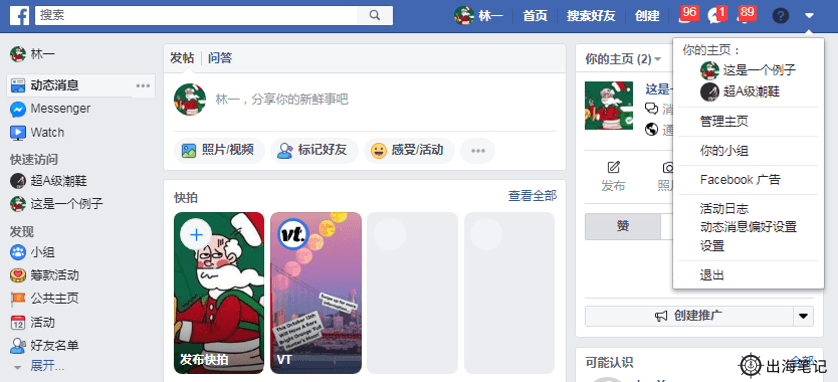 1.2 Facebook Page
In addition to your personal account, if you need to promote your product or service, you'll need to create a Facebook Page. Facebook Pages are like WeChat Public Numbers, and any business that companies want to do, such as push ads, needs to do it through Page Page.
So a Page is a must for Facebook ads. In addition, the home page is also a platform to interact with fans, usually can post tweets, events and so on.
To create a Facebook Page, you can click create the Page you want to promote by clicking on the pull-down box in the upper right corner and follow the prompts to create your Page step by step.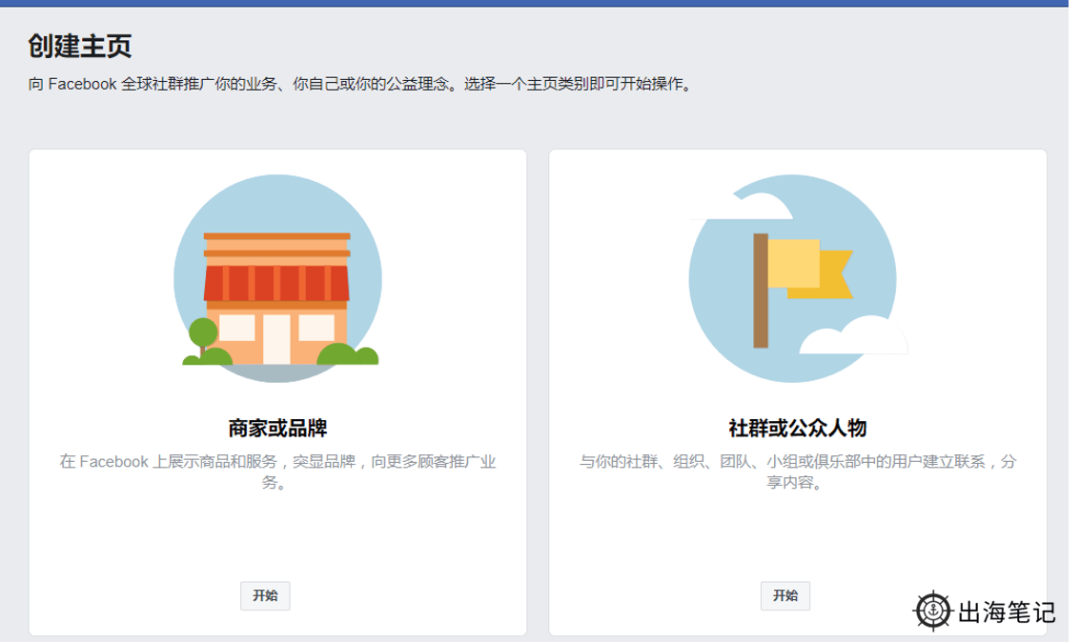 1.3 Open an advertising account
Once we have a personal account and product page, we can move on to the next step, which is to open your advertising account. First you need to sign up for Business Manager, a business management platform. Signing up for Business Manager makes it easy for us to manage our Page and ad accounts, while also using its features, such as creating Pixels, Audience Analytics, and more, and one Business Manager can manage multiple ad accounts, fan pages, and add multiple admins. Business Manager is especially necessary for those who need to open an account through an agent.
Business Manager Registration Address: business.facebook.com. The registration process is very convenient and fast, follow the prompts.
1.4 Business management tools
After opening your ad account, enter ad management at the drop-down menu on your Page, where you'll see business management tool BM and the display is very clear.
For us, the most important features of business management tool BM are the following six:
(1) Manage accounts and advertising
(2) View delivery data
(3) and create Pixel pixels
(4) Create a Page home page
(5) You can use Audience
(6) Audience analysis with theUdience Insight Audience Insights tool
With Ads Manager ad manager, you can:
(1) Quickly copy ads, ad groups, and campaigns
(2) One-stop editing of all ad settings, such as targeting and budgeting
(3) View all important metrics on a summary page
(4) Customize the chart to see the metrics you care about most
(5) Manage your audience
(6) Manage materials and ideas
Let's go back to the account opening section: we can actually open an account backstage on the BM Business Management Platform, but in the event of some violations, your Facebook will be blocked and it will be very difficult to unseal. So it is recommended that you open an account through a Facebook agent, which can usually be unsealed if it is 3,000, but there are no violations. If the delivery consumption is high, it is recommended that you can find an agent to open an account, and may also get some rebates.
1.5 What products are restricted?
Before you do a promotion, you must know what products you can push. Some Facebook products will be restricted, with 30 banned classes and 13 restricted classes.
You can go to this url to learn more about Facebook's specific advertising policies https://www.facebook.com/policies/ads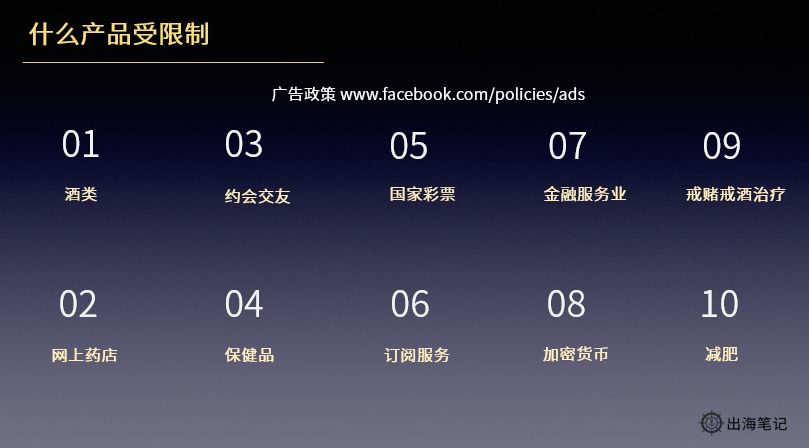 Build a data monitoring Pixel

 
2.1 What is Pixel?
The Pixel configuration is one of the most important preparations before an ad is available to monitor the entire promotion process and the behavior of users on the site.
First of all, let's look at what a Facebook pixel is, pixel Pixel is the code used to track user behavior, similar to Google tracking code, if you want to monitor the performance of ad conversions, pixels must be installed.
In fact, you can think of pixels as a tool to help monitor user behavior, pixel isFaecbookA piece of monitoring code generated, as long as the string of code to the site managers installed on the corresponding page, such as users click on Facebook ads, jump to our site behavior, you can be recorded by Faecbook, attribution analysis.
When we run the website, we can monitor the change of website traffic without auxiliary tools, in the running of FB ads is the same, if you do not install Facebook PIXEL, a lot of more detailed results you will not know, so I suggest here, if you are an e-commerce site, corporate image site, there is any sales behavior, very concerned about input and output than ROI words are very much need to installFaecbookPixel.
Once pixels are installed, Facebook can track the behavior that people generate on your site, which in turn provides optimized data for your ads. Some students asked, if it is an app, can you install Pixel? Apps aren't promoted with Pixel, but if the app's monitoring in the Apple Store or Google Play is for docking specialized monitoring tools such as Appsflyer or Adjust, this section will be covered separately.

 2.2 What are the benefits of installing the Pixel?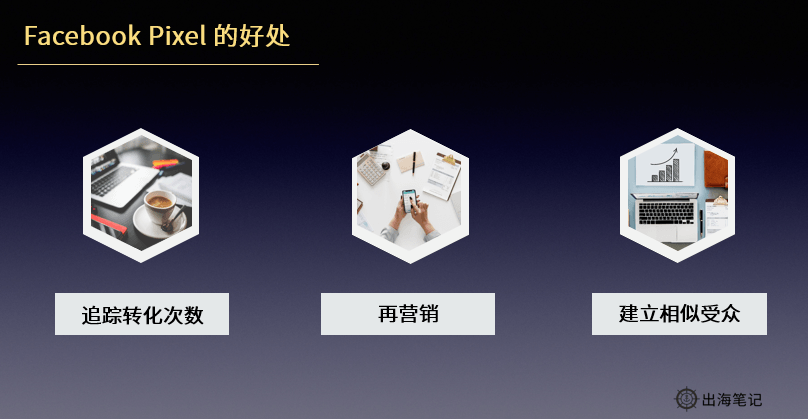 The Facebook Pixel has three specific benefits:
1. Count website data and monitor audience behavior.Statistical data can be optimized for subsequent ads. From this data you can find:
Few people click on ads, perhaps because the material is un attracted or aging

Clicks are large but conversions are small, and the reason behind this may be a landing page problem

Ad display is very small, perhaps the bid is too low or encountered a competitive season ...
2. Improve ROI through demarketing
Through pixels can be targeted at specific events of people to do accurate advertising of re-marketing, such as the purchase of lipstick recommended foundation, the person who put the phone into the shopping cart recommended mobile phone case ...
3. Build a similar audience
The so-called similar audience is a very powerful tool for Facebook, simply by expanding some behaviors and tags to an audience similar to the one originally defined, such as first using the person who bought lipstick as a custom audience, and then asking Facebook to find someone similar based on the characteristics of those who have bought lipstick, and then you can promote products like perfume to them.
2.3 How do I create Pixel pixels to monitor your ad performance?
How do I create Pixel pixels to monitor your ad performance? There are nine steps to follow:
 1. First find the Pixel Pixel Code in the drop-down menu of Business Management Platform;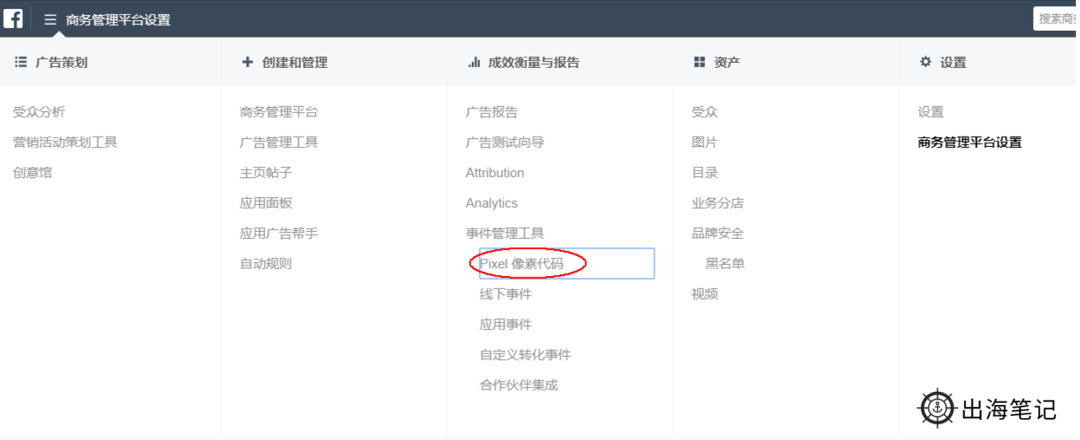 2. Find Pixels in data source on the left menu bar of BusinessSettings settings, click Create Pixel;
3. Give pixel a name and the website to monitor (optional), click OK to select set pixel immediately;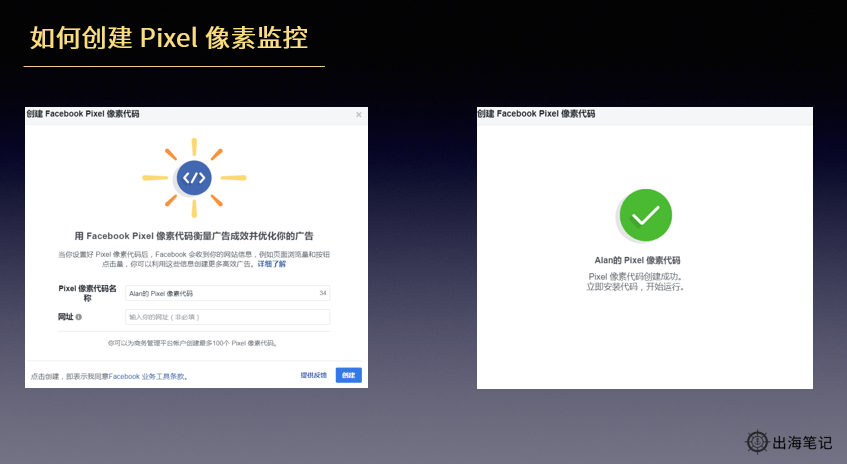 There are three options, some e-commerce sites such as Shopify store has integrated pixels, you can copy and paste pixel numbers directly;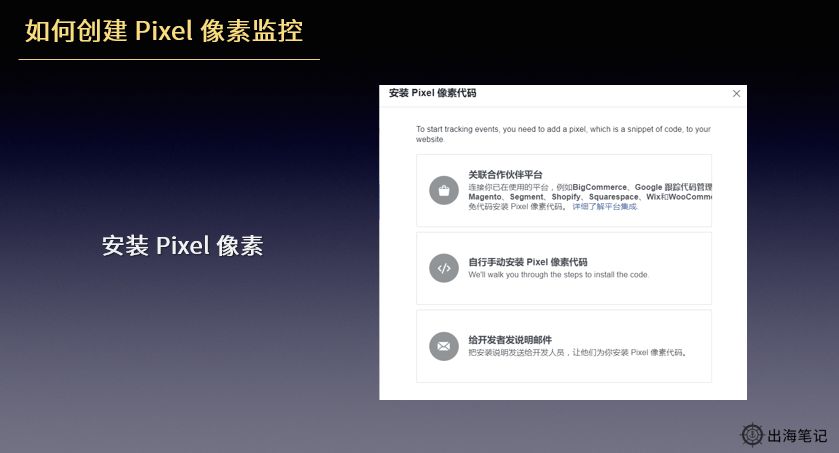 4. The original code for a string of websites pops up: paste the Facebook pixel code between the head and/head tags of the page. You may have copied other code between the head tags before, so all you have to do is paste the pixel code below the current code, above the /head label. (This operation allows your network management to do or do it yourself, very simple, if the operation of GA code installation of the basic process is the same)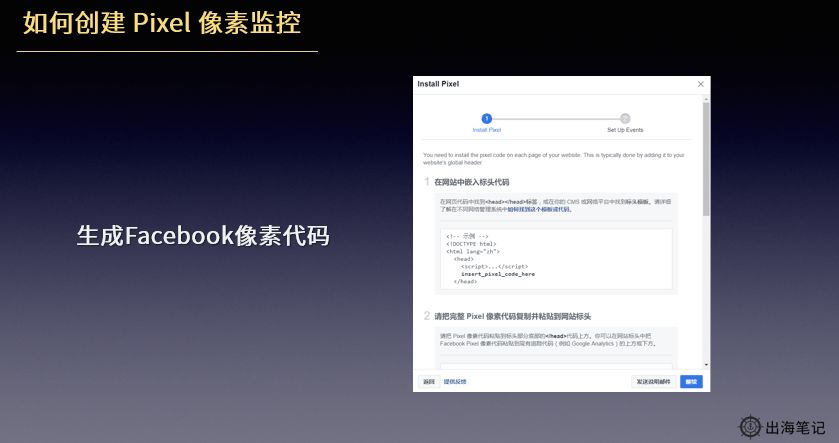 5. Install using the Facebook pixel base code: Facebook pixel code, as shown in the image above, is followed by a string of numbers in the middle of the "fbq" ('init') or the Pixel ID can be seen in the management background. For example, in the Google Tag Manager or Shopify background, find the option of Facebook Pixel at the Preference entrance backstage on Shopify and fill in the ID. Let's click to continue.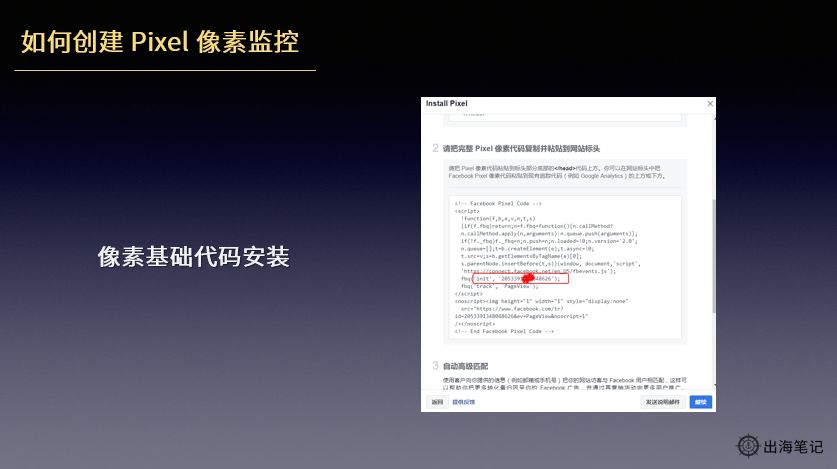 6. The parameters for each event can be set below, and then the Standard Event Code can be generated
Facebook tracks 10 standard events in different industries and automatically optimizes ads for those events. If you need to monitor other events, you can create custom events. Other categories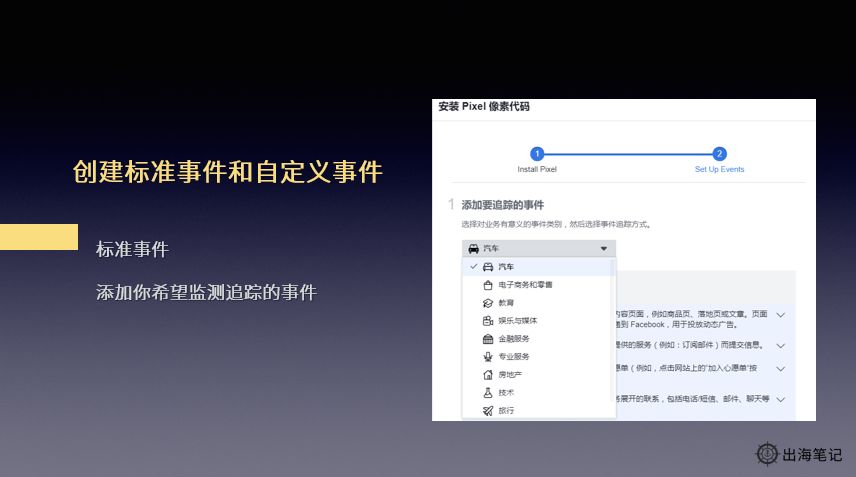 7. Click on the Other Business Categories button and a custom conversion parameter setting will pop up. Add a URL or part of the URL that represents a custom conversion (ex: a thank-you page after registration or purchase, url includes/thanks.php). This is equivalent to using a shopping standard event. If using a URL equals, you should also ensure that the domain name (ex: www) is included. There is no need to include "https" or "https". Then click Create. Note that the maximum number of custom conversions per ad account is 40.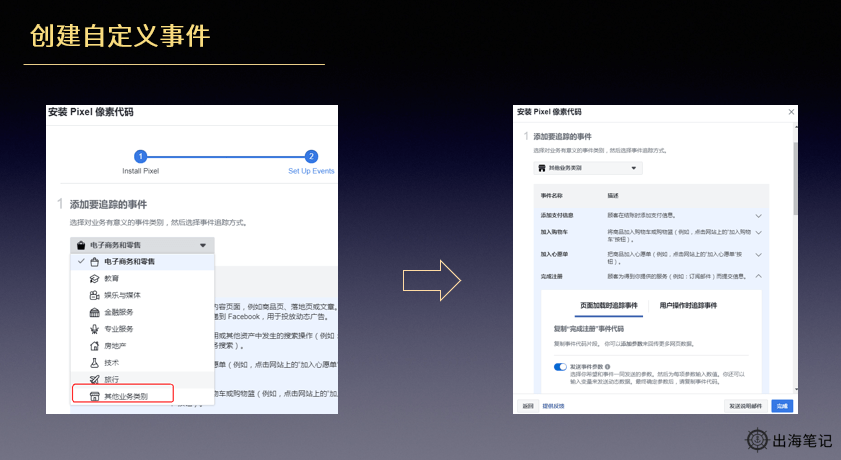 8. Generate code and install Pixel to the website. The key here is that each page of the site should contain Part 1 "Base Code" (that long string of numbers), but different pages should use different codes from Part 2 (standard event code) (e.g. joining a browse page or shopping cart, etc.). For page load events: place the code below the end of the header of the page (for many sites, this means that the code should be placed just below the body's start label);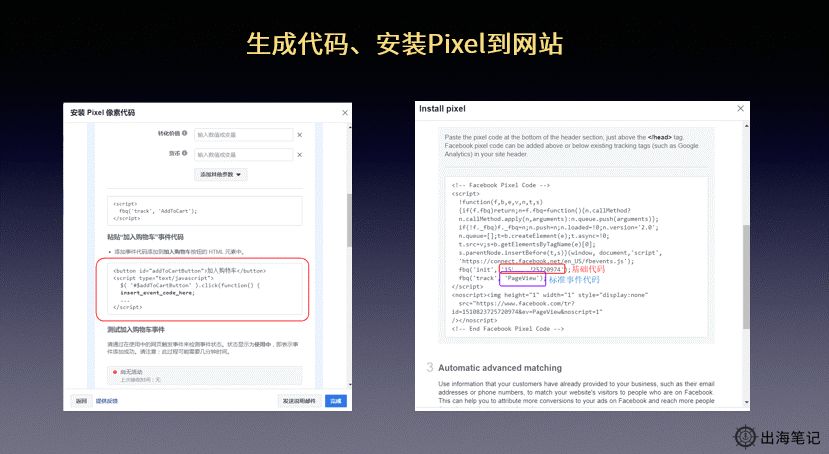 For user action events: Add the event code between pairs of script labels directly below the action you want to track, such as a button.
These operations are not difficult if there is a bit of a web foundation, but if they are new, it is recommended that they be handed over to the network management or operators for installation.
2.4 Check that the pixels are installed correctly

How do you determine if your pixels are installed correctly? We can install the Pixel Helper plug-in for Facebook Pixel Assistant, which can help you check if your pixels are working properly and troubleshoot them. Once installed into the Chrome plug-in, you can see if Facebook pixels are installed on your site, and you can check for errors and see the data that pixels track. Once installed, click on the plug-in Logo to see the pixels of a website.
Before I talk about this part, I'll popularize the concept of advertising hierarchy. Facebook ads are divided into three tiers from large to small: Campaign Campaign, Ad Group Ad Set, and Ad Ad. The variables that need to be selected for each level are as follows:
Campaign Campaign: It's about targeting your ads

Ad Group Ad Set: Audiences, Places, Budgets, Bids, Ways to Optimize, and More

Advertising Ad: format, materials, text, links, etc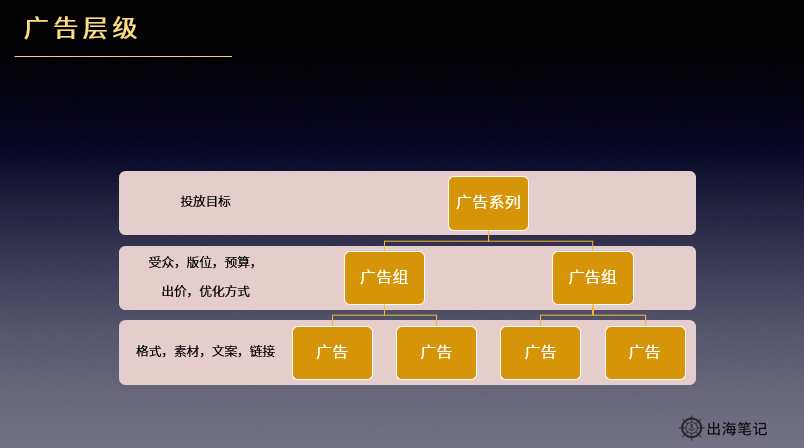 3.2 Create an ad
There will be a special article on how to plan the account hierarchy. So next,Let's go directly to the practice session created by the Facebook ad account, as follows:
1. First of all, we want to go to the back office of the operation created by Facebook ads.Click on the drop-down menu in the upper right corner of the Facebook page, choose to create an ad, and you'll be able to go backstage to Facebook's ad manager.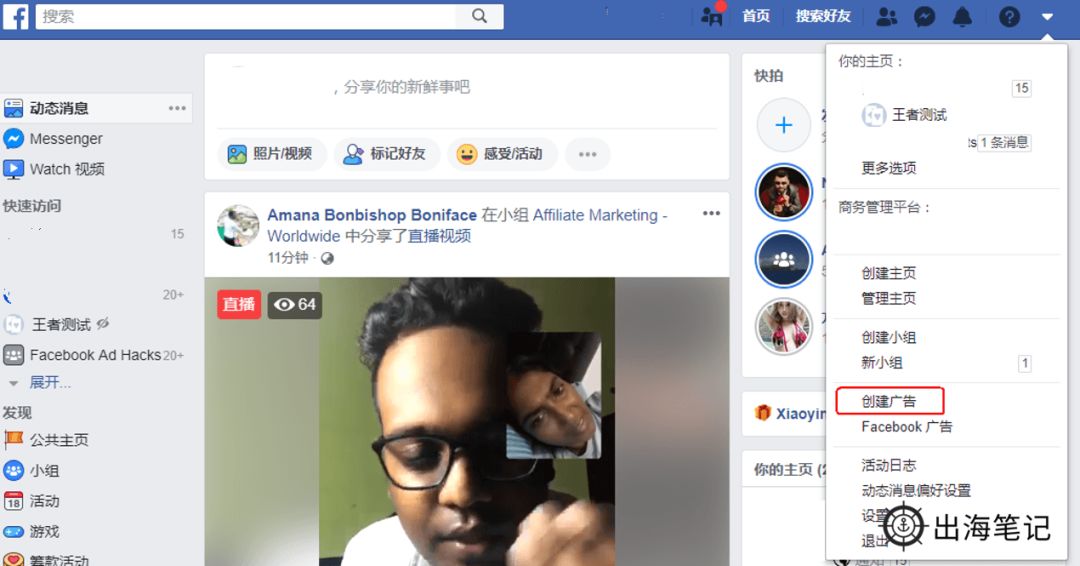 2. Choose to launch marketing goals
Before you go online, Facebook asks you to choose a marketing target.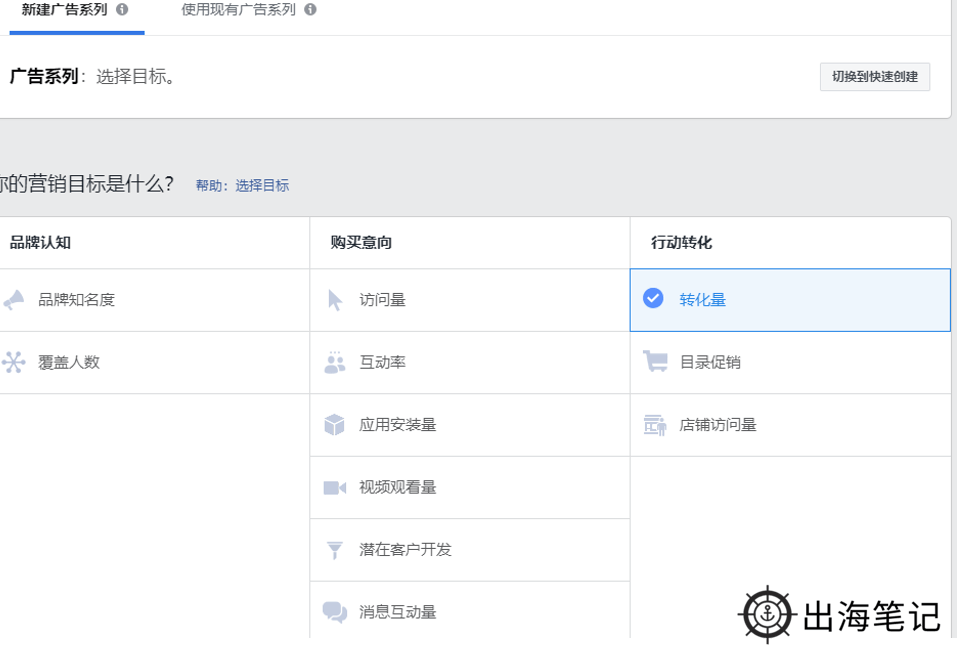 Facebook offers more than 10 delivery target options, here's a quick explanation:
The following two are rarely used in brand awareness. The two goals of brand awareness and reach, as the name implies, are to let others know your name, mainly to brush your face. Traffic Traffic is also not much used, certainly some people want to try, but the traffic quality of the traffic brought about by the traffic is really very general, and really do not use a lot of people.

Interactive rate Engagement, this e-commerce is used more. Some cross-border e-commerce companies can easily pay for interactive advertising alone. Interactive ads can choose post interaction, that is, PPP (Page post engagement, that is, post interactive ads), or you can choose the page like, the activity accordingly. In general, PPE and home page like can try to cast some, used to do drainage. App installs are targeted at promoting app installs.

Video views, if you have video footage, video views this goal can be tried, because Facebook will record the length of the viewing, and then you can generate a custom user list based on different viewing hours, and then do re-marketing.

Lead development, or lead Leads, is to get customers interested in you and then fill in information such as email, for game warm-up, car test drives, software trials and other promotions.

The amount of message interaction, pushed to attract users to messenger to interact with you, this is not much use.

Conversion volume, the most direct goal of the general e-commerce website is conversion. Website shopping, when selecting conversion targets requires that Pixel must be installed, you can use Pixel standard events or custom events as the target event for conversions. Conversion ads contain different events, e-commerce generally choose to shop, of course, we can also customize events. Specific events can be selected at the ad group level, such as viewing content, re-purchase, pay, and shop.

Catalog promotions, also known as DPA dynamic ads (DPA ads, all called Dynamic Product Ads), Chinese are called "dynamic product ads", or "dynamic ads" for short, to create ads that automatically show catalog items to their target audience. It is characterized by the 60s that can be based on the lead's behavior record, the establishment of personalized advertising for each customer. This type of advertising is ideal for businesses that have a large number of products and want to create personal advertising for potential or existing customers, especially e-commerce. Simply put, DPA is based on the user's historical operation, customized analysis of the user's interests and needs, the ads directed to the user, usually using algorithms to achieve. DPA is mainly through pixel crawl data to do de-marketing, need to upload catalog, Shopify store can generate catalog through APP one click, self-built site can upload forms, can also be uploaded ftp.

Store visits, can promote shops to surrounding users such as a number of stores, suitable for offline stores of merchants.
Usually do e-commerce only need to participate in interaction, conversion, catalog promotion of these goals. Delivery order is generally the first to start the investment interaction, and then began to cast conversions, and finally began to cast catalog promotions. Note, here I only talk about the beginning of the cast, did not say stop, not after the interaction, the interaction stopped, only cast conversion. Interaction and transformation can coexist, interaction and DPA can coexist, and all three can coexist.
3. Enter the campaign and ad group name.
Once you've selected your marketing goals, fill in a name for your campaign, which can have multiple ad groups.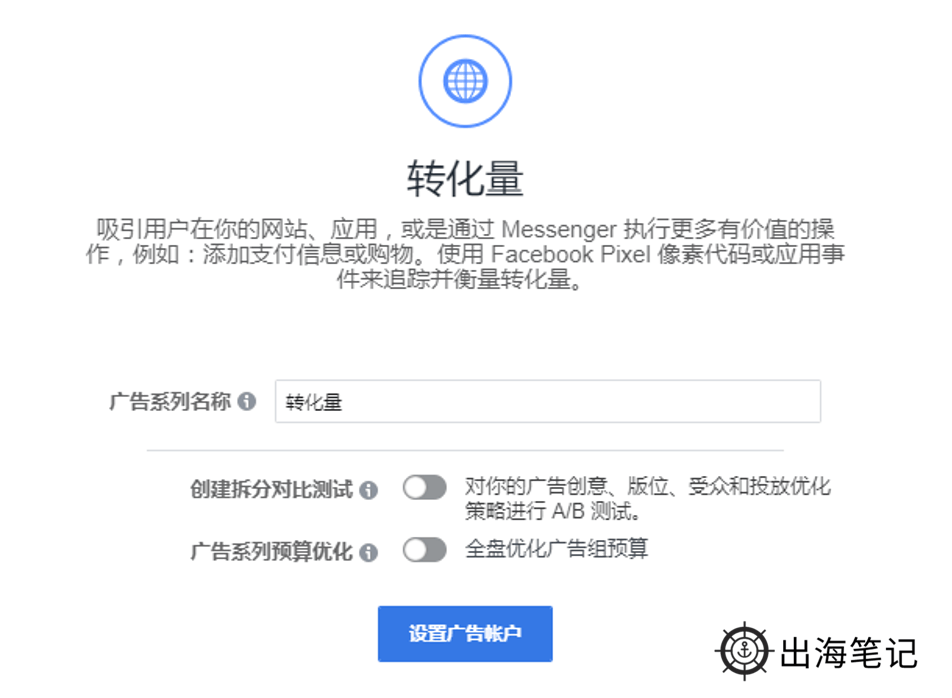 Here's an option called split comparison test, which can be set up at the campaign level. Allows you to test different versions of ads to find out which ad scenarios are best performing and to improve future ads, which is actually the so-called AB test, which is very useful (we'll go through the details in a later article on how to do a good job of testing)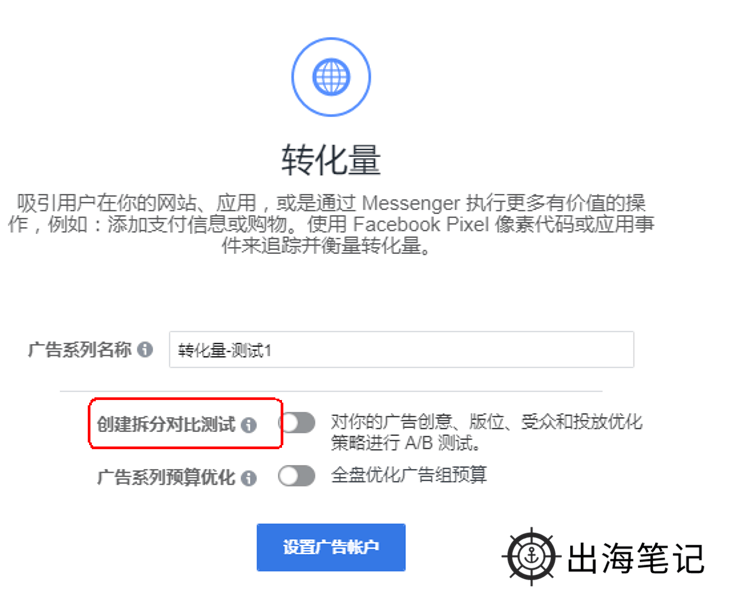 4. Campaign budget optimization
Budget Optimization is now uncheicked: Campaign Budget Optimization is used to optimize the allocation of campaign budgets between ad groups. In short, if you tick this, Facebook automatically adjusts its budgets, automatically looks for the best opportunities to achieve results among ad groups, and allocates campaign budgets in real time to achieve those results.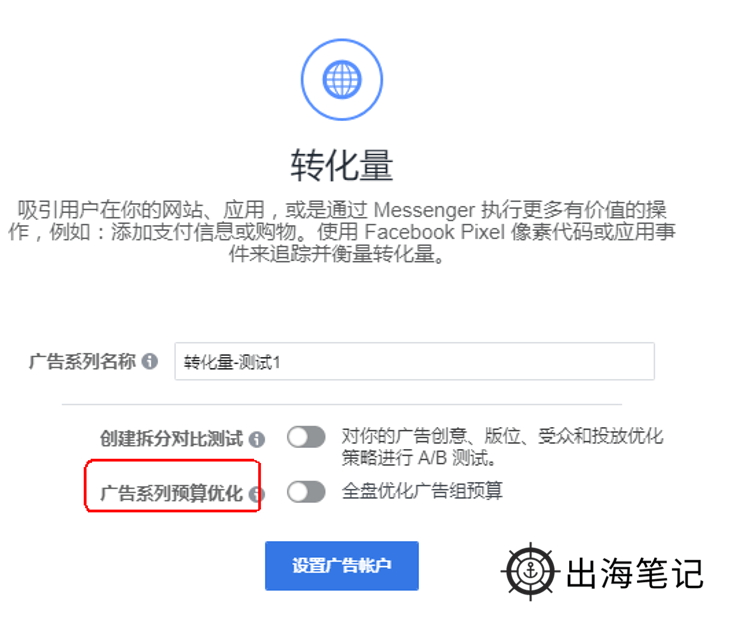 Campaign budgets are budgets that are set at the campaign level, not at the ad group level. You can set a budget amount for each day (one-day budget) or the entire run period (total budget) for your campaign.
5. Set the regional currency, time zone
Click "Set up an ad account" to select your region, currency, and time zone, which must be selected at once, because all your ad bills and reporting data will use this currency and time zone settings. If you want to modify your settings later, you must create a new ad account.
6. Set your ad group name
Ad group name is best to have their own specifications, and with other colleagues unified norms, easy to manage later, especially after the data analysis to do Pivot, the specification of good ad group names will help you save a lot of work.
The general format of the ad group name can be set to: "geographic, gender, age, layout, crowd, bid method, customization", for example, "Thailand_FBN_F_1855_ Save, auto, king test"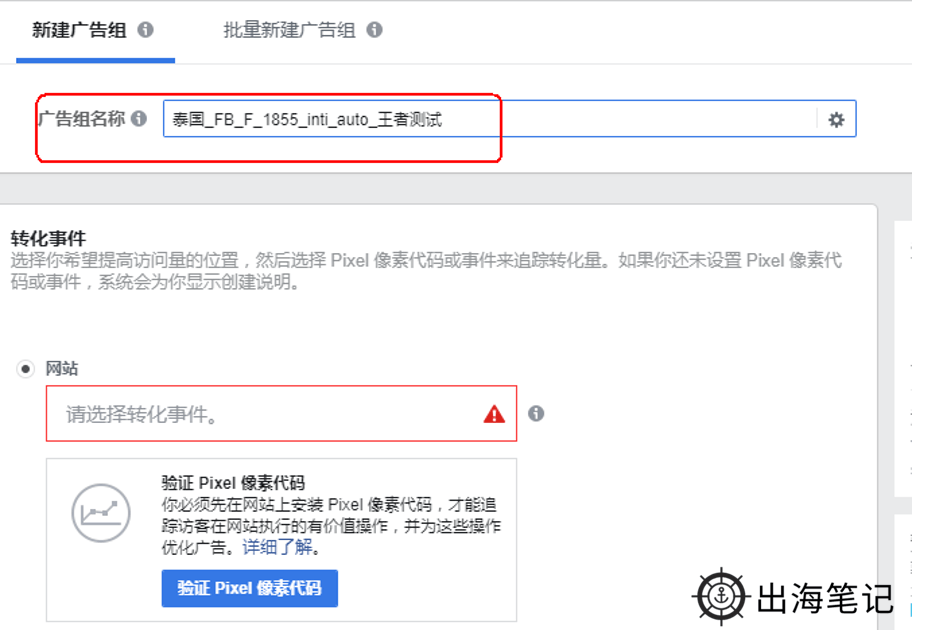 7. Conversion events
Choose whether you want to promote a website, app or messenger, whatsApp, such as sign up, view content, buy, etc. here, depending on your actual goals.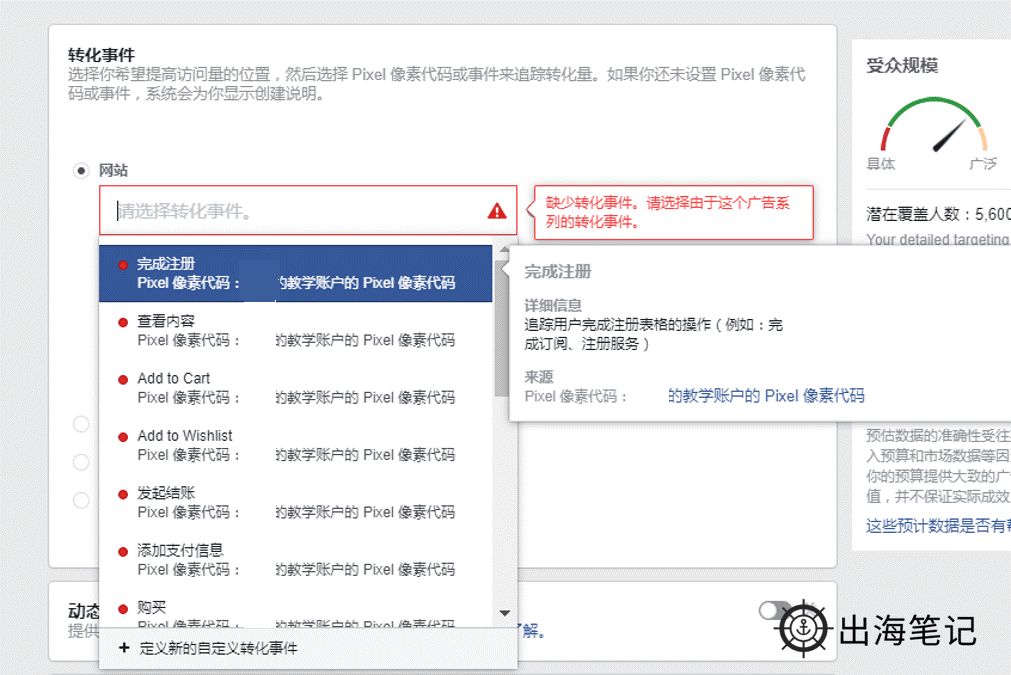 8. Dynamic material
The Dynamic Footage tool selects multiple ad components, such as images, videos, titles, descriptions, and call-to-action CTA, to automatically generate different creative scenarios based on your audience and find the best creative combination for your ads. The delivery system is then optimized for creative elements that achieve significant results in each presentation.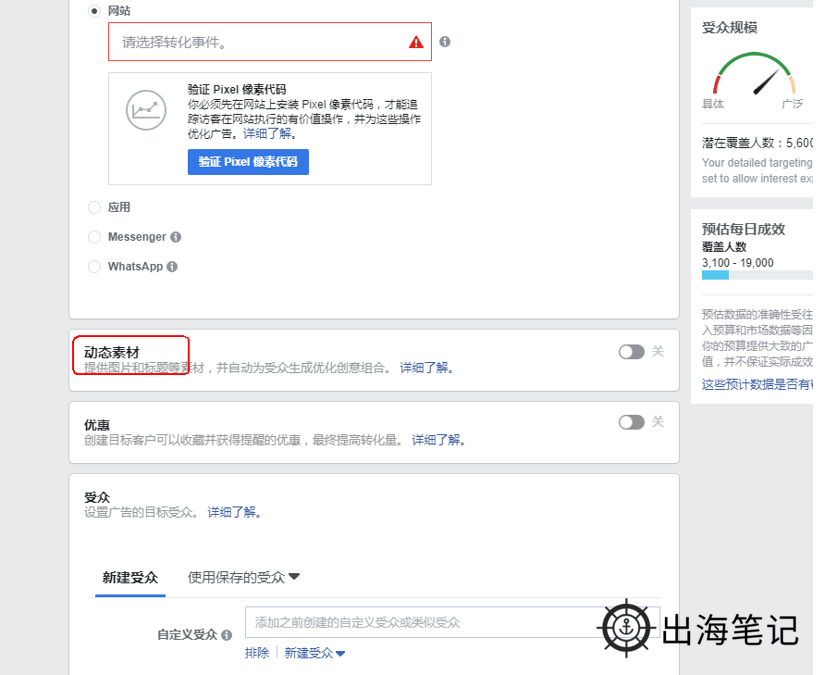 For example, if you have more than one set of advertising language, pictures, videos, you can use dynamic material to run. From the practical experience, dynamic material general effect will be good, because the system in the process of running will try to push the effect of good combination to the target user, but the corresponding cost will be higher, depending on how we choose. However, it is not a complete substitute for AB testing, and if you are not familiar with it, this one can be chosen first.
9. Offer
A discount that you share with customers on Facebook is designed to lur people to your store or store, or to visit both destinations.
Offer ads are when people see offers in Facebook News Feed and can like, like, or comment on them. Users' favorite offers will be displayed in their offer bookmarks for later use. Depending on the user's personal notification preferences, Facebook will send up to 3 reminders to people who like the offer. But if you're not familiar with it, you can't choose it first.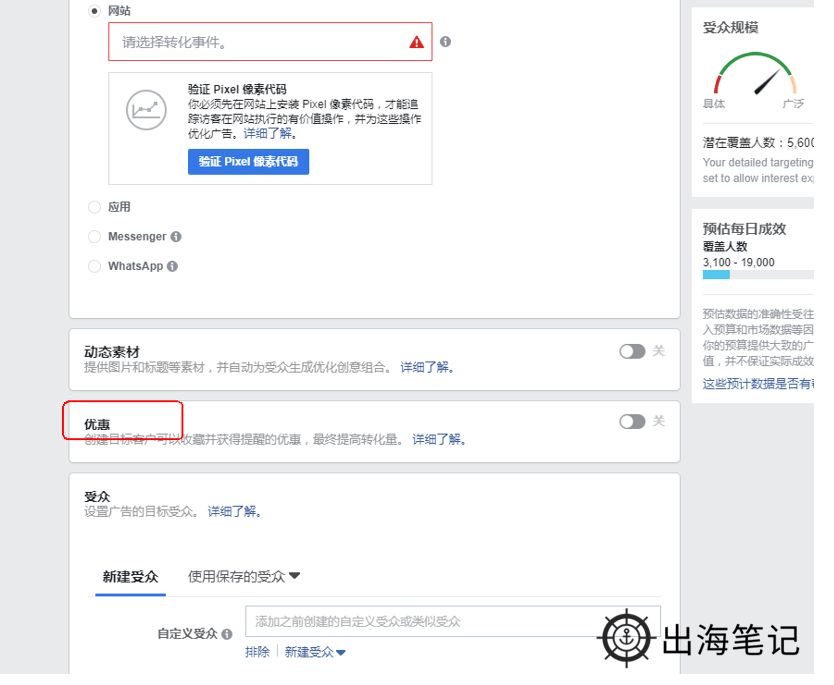 There are two types of optimized ads: online offers and brick-and-mortar ads.
Online offers: When people who like offers switch devices, such as switching from a phone to a computer, Facebook will send them a notification reminding them to use the offer and notifying them again before the offer expires.

Store offer ads: Users can use the offers they've collected on their phones in your store, and Facebook will remind them to use them again before the offer expires. In addition, they will receive an email with details of the offer to print the offer. If a user's phone has location sharing turned on, they'll also be reminded to use the offer when they're near the store.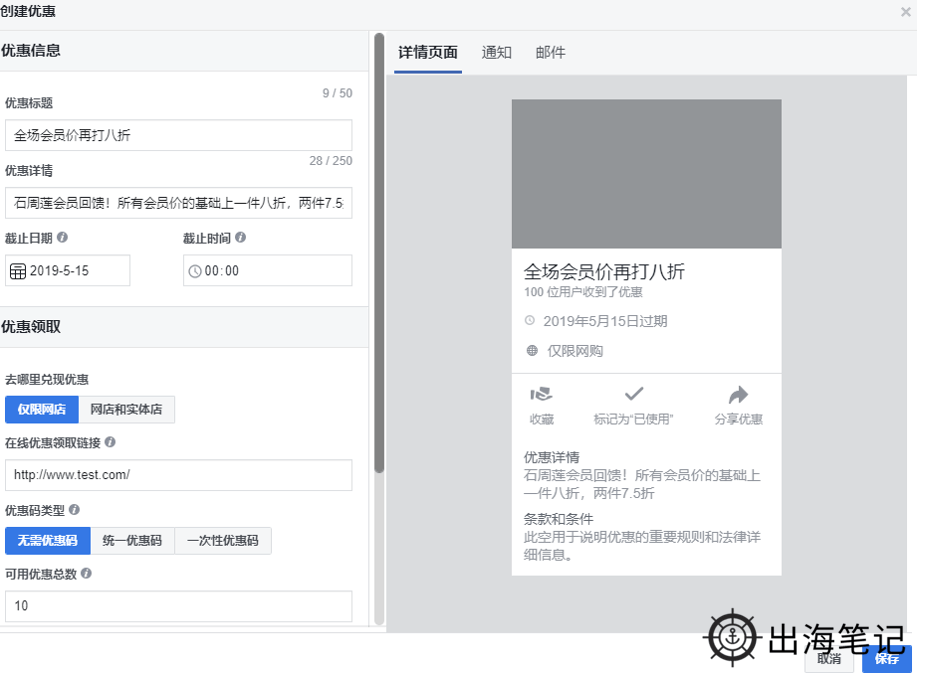 In addition, you can check the offer collection in your ad report to see how many people are interested in your offer, and to learn more about how many people have viewed, clicked on, and used the offer. This premise is that you use conversions or store visits as a target for promotional ads. You can use this information to adjust and improve your advertising strategy.
10. Select your ad audience

Once you've set your goals, the next step is to choose the right audience. There are three audiences: core audience (saved audience), custom audience, lookalike audience.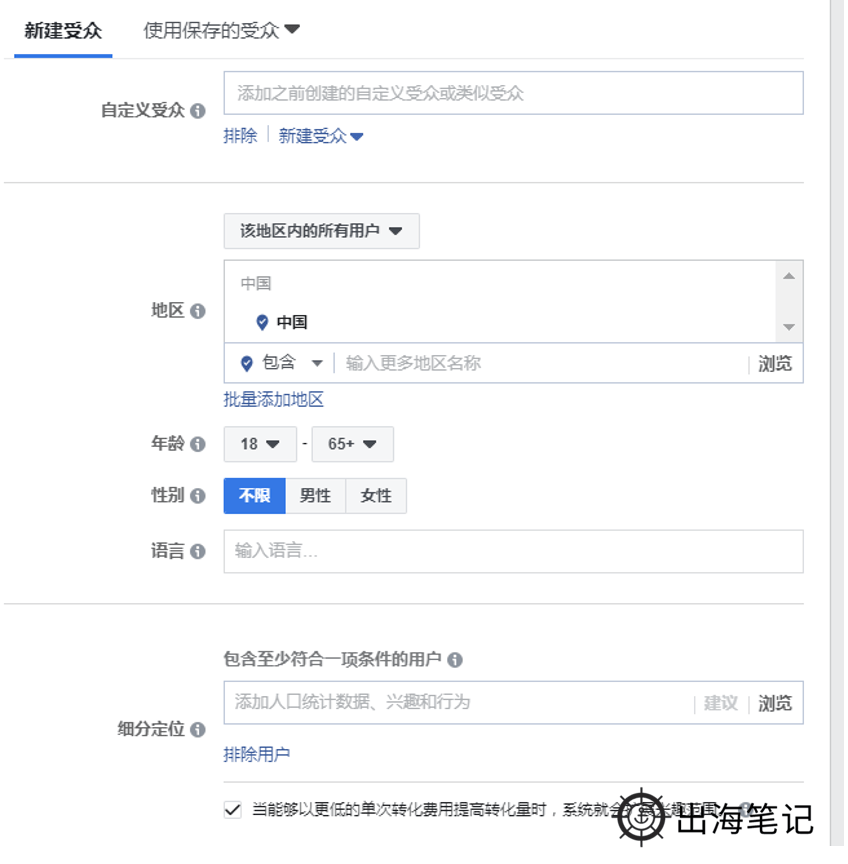 Here's a first look at these three audiences.
The core audience (saved audience), the audience framed by the dimensions provided by Facebook based on geography, age, interests, gender, language, behavior, etc. There are a few things to note about your core audience:
Audience groups can be excluded from each other, such as you're now creating a new core audience, but you've already created ads for a certain audience before, and you can choose to exclude certain audiences to avoid audience overlap.

Once you've selected a region, it's best to choose a specific language, otherwise you might waste your budget by reaching audiences like Thai, Korean, and Vietnamese that you don't want to reach.

Here, there are three big dimensions: demographics, interests, and behavior. Interests are less accurate, and any related behavior can be judged by Facebook as interested, such as choosing the UK, women, online shopping, basically including female users across the UK. Segment positioning can overlay interest, can take intersection, can also take the intersection, intersection is to meet a number of conditions at the same time, such as like basketball and like fitness, and set is like basketball or fitness can be. Users can also be excluded.

Finally, Extended Interests advises nodders not to choose for the time being, or Facebook may show your ads to non-target audiences and waste money.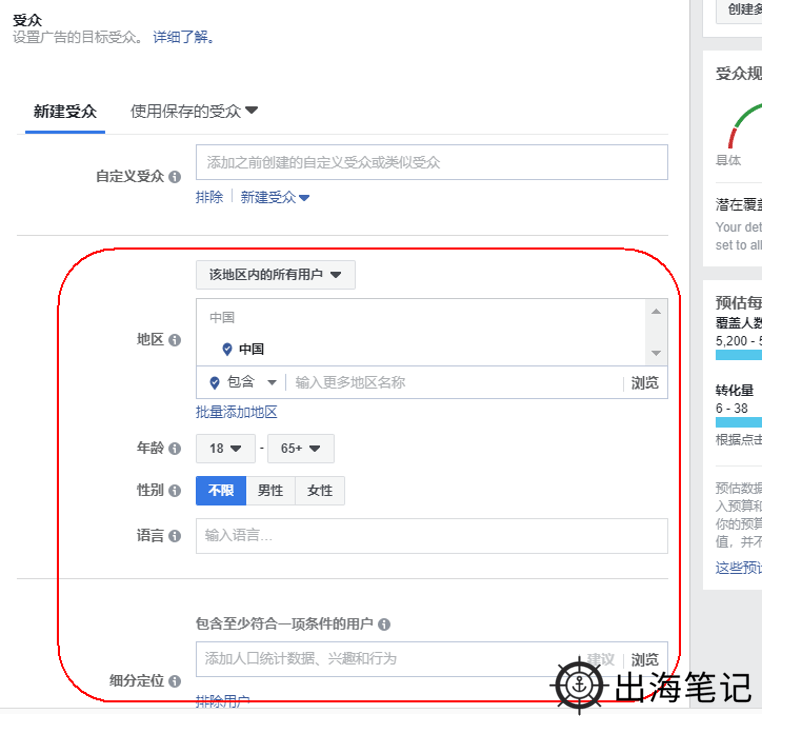 Custom audience, can be used to upload lists (email, phone...) ), or it can be the visitor data of Pixel, a Pixel pixel site on Facebook, or it can be an interactive audience for interactive, video-watching ads.Create up to 500 Custom Audiences per ad account, using information such as customer lists, Facebook engagements, site visits, or app visits as feeds, and creating Custom Audiences, Facebook SDKs, and Facebook Engagements to create Custom Audiences.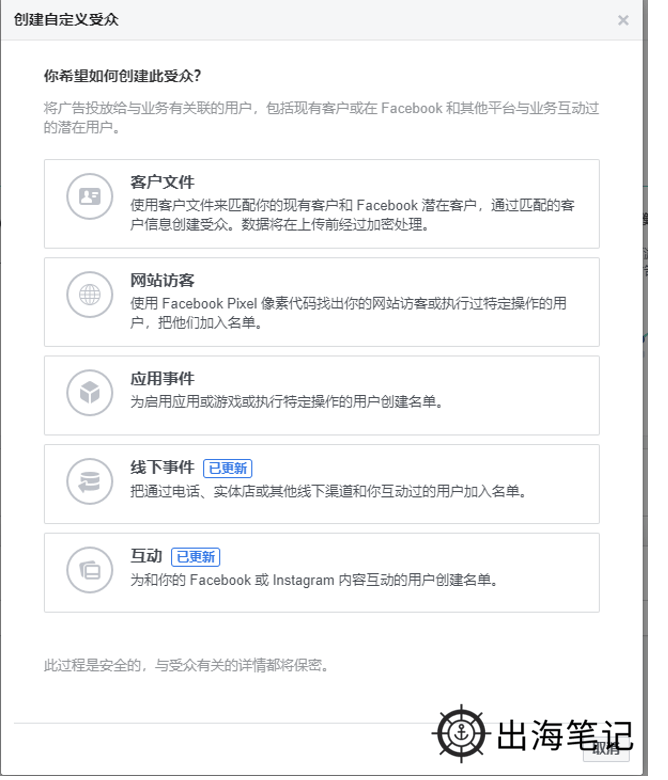 Similar audiences, with lookalike audiences, you can reach more new people who might be interested in your business because they're similar to your existing premium customers.
When you create a lookalike audience, you need to select a source audience (a set of custom audiences, created based on pixel data, mobile app data, or Page fan data), where users are identified for the same characteristics (ex: demographics or interests). Then the system will look for people who have similar characteristics to them. You can choose the size of your lookalike audience during the creation process.
The smaller the audience size, the better the match to the source audience. Creating a larger audience increases potential reach, but reduces the similarity between the lookalike audience and the source audience. The quality of the source audience is also very important. For example, a source audience made up of the highest quality customers produces a higher quality lookalike audience than a source audience of all customers.
Lookalike Audiences are generated based on Custom Audiences, with a choice of region and crowd pack sizes, from 1% to 10%, 1% to the 1% who are most similar to your Custom Audience, and 10% to less than 1%.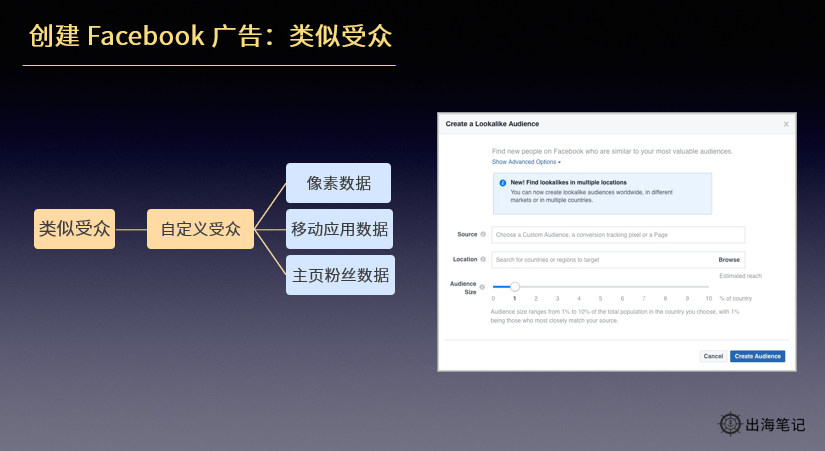 11. Select the layout
Once you've created your audience, the next step is to choose where your ads will run. While Facebook recommends automatic bits, few people do. Here we can choose the device: specify whether the desktop side or the mobile side.
What is the Audience Network in the platform? For example, if you like a brand's merchandise on Facebook, when you're using a third-party app in question, you might see a brand's ad content that, like other mobile advertising services on Facebook, might appear in the form of banners, pin windows, or native ones.
Audience Network is a more uncontrollable factor because it's a third-party platform and has low transparency, so you can choose to run it unless you've got all of Facebook's volume before considering Audience Network, or if you have specific needs for the media in some Audience Network. The average e-commerce company is mainly on Facebook and Instagram, and utility games can be considered on the Audience Network.
The right column is a unique version of Facebook's desktop, which is not suitable for new customers and for re-marketing. Some people like each layout are run separately, some people like to only vote for Facebook's mobile streaming ads, how to choose your layout, to wait for you to run, look at the segment data, see which layout performs best, and then decide.
12. Set up budgets and scheduling
Budgets are determined by audience size, target conversion events, target conversions, commodity prices, audience value, and more. Some people like an ad group that gives a $10 daily budget, runs slowly and is more insured; Skilled runners will choose a new series, directly on the $300-a-day budget, in order to get ads out of the way as quickly as possible and accumulate some data as quickly as possible.
But it's better to do an AB test, know the CTR (click-through rate) of this ad and the website's CVR (conversion rate), and then consider adjusting your budget, which is more reliable. General advertising is long-term, but sometimes you need to use scheduling. The advantage of scheduled ads is that you can choose when to run them. For example, if your product is sold more high only a few days of the week, you can choose the corresponding time to run it here to improve your advertising efficiency (you need to set a total budget). This truth is very similar to doing Google, Baidu launch.
13. Fill in the ad name
General naming rules: "advertising forms ID_ materials ID_ designers, advertising date, custom, but sometimes we in order to easily read the report, we will also be the advertising group of people targeting settings added, such a benefit is that you look at the advertising hierarchy, you can already know the crowd targeting, do not need to point back again, because if you advertise more, each switch is actually a waste of time.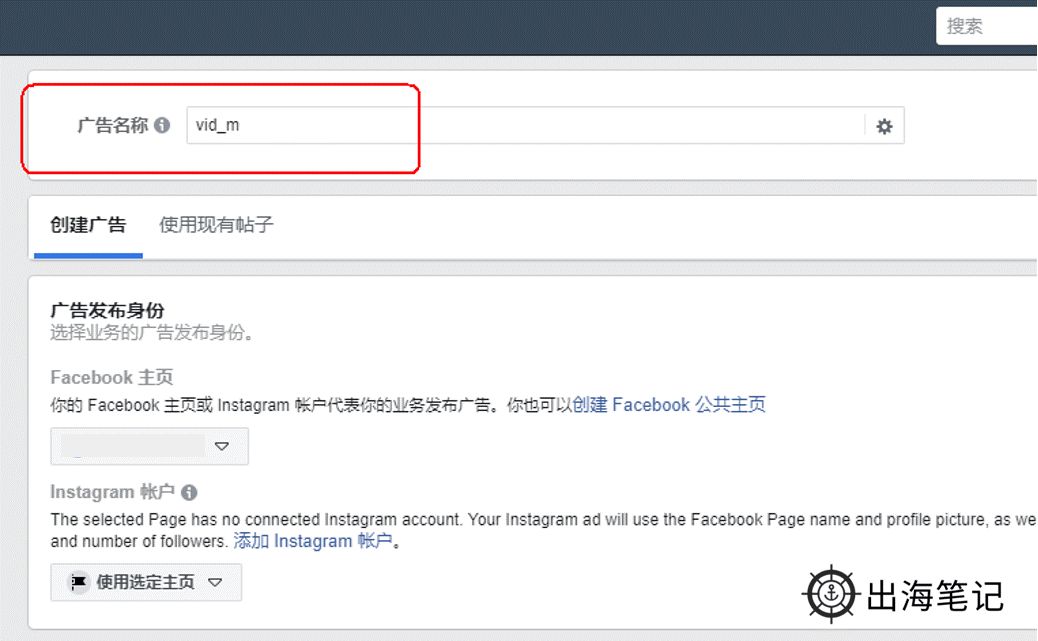 14. Choose the ad format
Facebook has a growing number of ad formats, such as carnage, single images, single videos, slideshows, boutique bars, full screens, and more.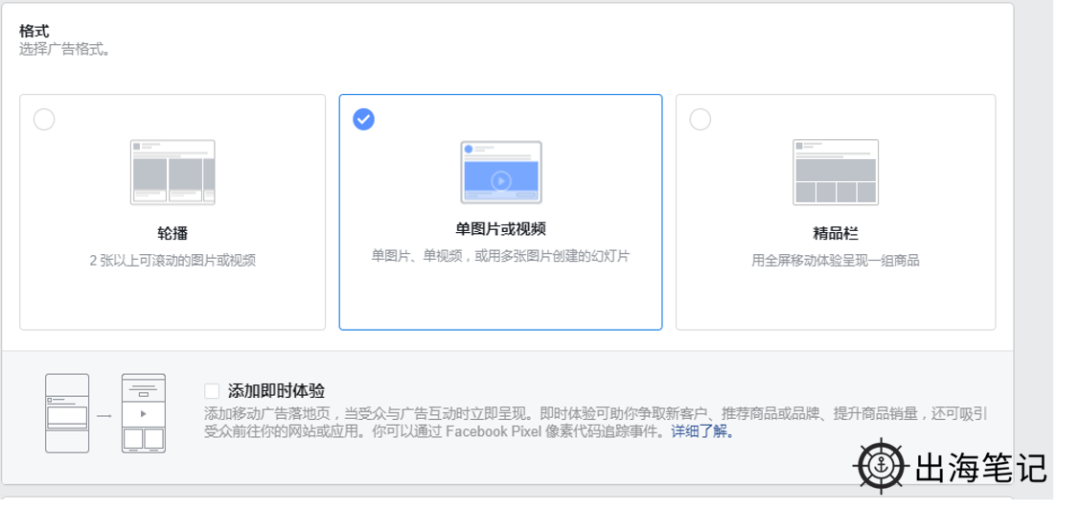 15. Submit your creatives
Footage is generally pictures and video files, because it can catch people's eyes, but also improve the target conversion rate. Keep in mind that the image Chinese part of the text should not exceed 20%, otherwise the advertisement will be rejected.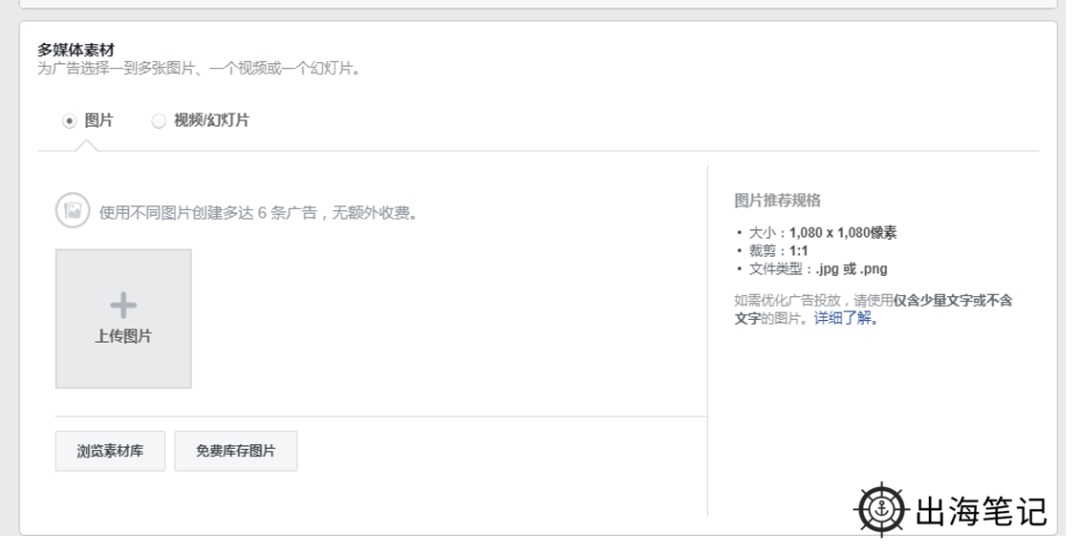 If you don't have a professional artisman, you can try using the Genesis stickerchuangkit.com or www.canva.com for a very simple job.
There are also two free photo sites www.pexels.com and www.pixabay.com
Note that there are some requirements for the size of ads in different formats, as described next to Facebook when it creates ads, and I'll give you some examples here:
Photo Ads: Suggested 1080 x 1080;
Video ads: Scale 9:16 to 16:9, min. 1 second, up to 240 minutes
Minimum width (pixels) for all pictures: 400, minimum height (pixels) for all pictures: 150, tolerance for all aspect ratios: 3%
16. Fill in the paper
On how to write a good advertising paper, we will be out of a material later article, the side will explain in detail, here first give you a brief introduction. Create the text you need to write for Facebook: ad title, text, call to action, ad link description, display link.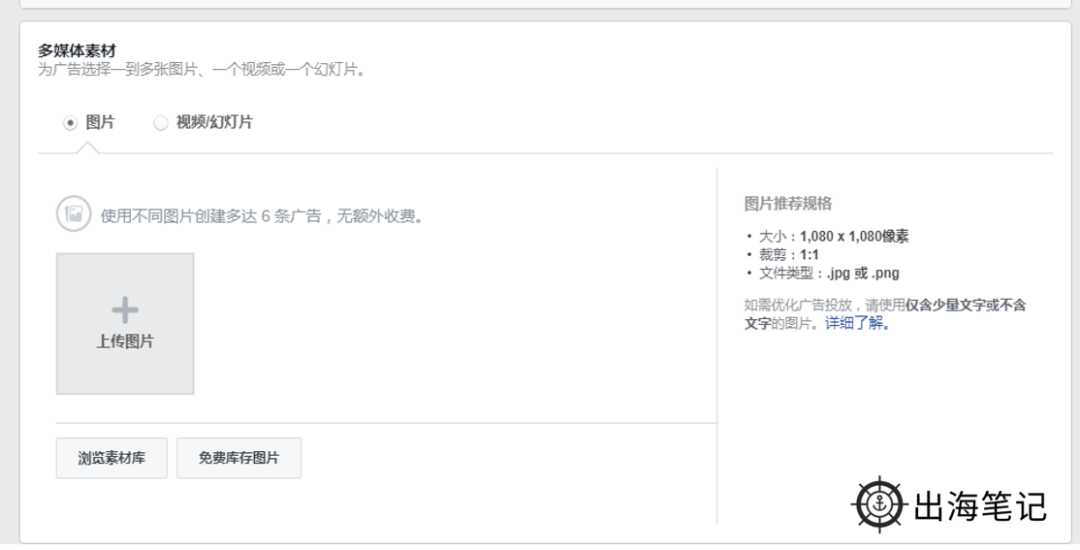 Text: You can make some detailed descriptions for the title, such as 50% off, limited time limit.
URL parameters: For easy tracking, if you use Google Analytics, you'll need it.
Ad title: The most important content, such as christmas decorations and other headlines.
Call to Action: Learn more, buy, download, try, and more.
Ad link description: Only displayed in certain places, not required.
Show link: fill in the official website main domain name on the line, mainly for good-looking, not required.
17.Preserved Drafts
If you want to save during editing, you can click the close button in the lower left corner, enter the ad creation process and click the close button at the bottom left, and you'll be prompted to choose to close and save the draft or close it. After you save as a draft, you can return to what you created earlier and make changes or complete the creation in two ways.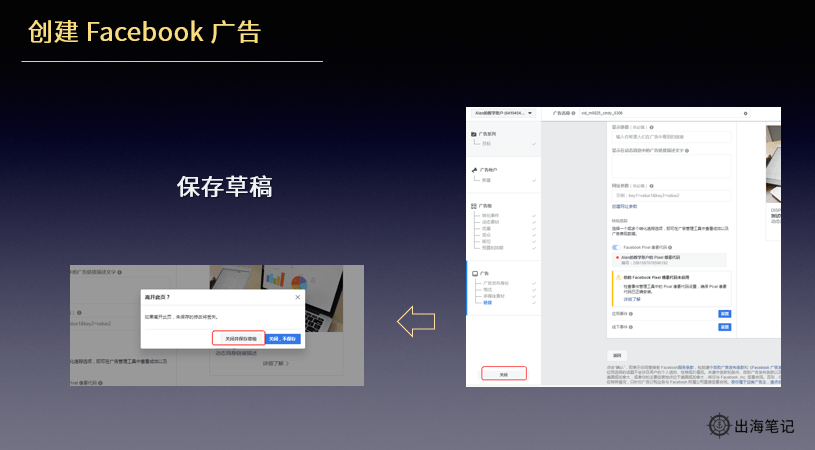 Find the corresponding campaign, ad group, or ad tab, hover over the ad element you've previously worked on, and click the edit button (pencil icon) that appears.

In your previous tier (campaigns, ad groups, or ads), select the Create button, then click Use existing content, and select the name of the entry you want to go back to editing.
Finally click Confirm and your ad creation is complete。
Finally finished writing, if fans have any questions about Facebook's backstage operation welcome message. 
Review of previous periods
---