Japan Post launched a virtual postcard campaign to "Respect the Old Day" to promote the 51st issue of the island group in Japan
"Out of Japan to promote the islanders."
    Japan Digital Media Operations Professionals
Reply to "Join the Community", ShenPlease addOverseas promotionCommunity.
Where.Forward.This article is toCircle of friendsOr.Overseas promotionRelated WeChat Group, screenshots to WeChat backgroundSend-to-JapanLocal promotional materials, Japan's overseas promotional services program。
Seek Japanese traffic, social media
KOL
, traditional media, outdoor media,
SEO
、
SEM
、
ASO
For online and offline promotions, please contact the Blue Boat Microsyscope
BlueBoat_Global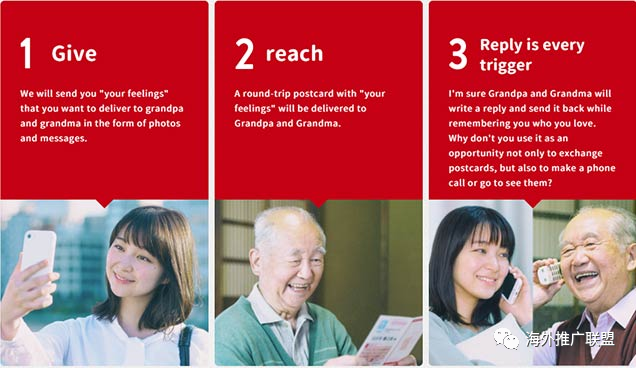 The post has teamed up with McCann Tokyo to launch a new campaign for the National Day holiday." Magosha alphabet (Mago stands for grandson, Sha is short for photo) uses smartphone technology to send postcards to their grandparents with their favorite selfies and messages by registering, uploading photos and solving problems。
The postal service then turns it into a physical postcard containing photos and reply blank postcards to encourage grandparents to reply. Grandparents have access to a precious picture and the opportunity to communicate with their grandchildren and maintain their physical and mental health.
 As part of the campaign's research, Japan Post used Medpeer, a physician platform run by Medpia Corporation, to survey 120 physicians treating people with dementia. More than 80 per cent of doctors replied that "communication with family and acquaintances is considered to have a positive effect on dementia", while more than 60 per cent replied: "Taking action letters such as looking, writing and walking when sending Magosha will naturally provide better support for people with dementia". Eventually, more than 60 percent of doctors said they would recommend Magosha Letter to families of people with dementia.
"I lived with my grandparents until I graduated from college, and they were very helpful to me, but when I started working and living on my own, the opportunities to talk to them became more limited, " says Taro Murakmura of Japan Post's digital business marketing department. " 。
"I'm sure a lot of people wanted to know how their grandparents were doing, but never had a chance to call them. That's why we decided to create this new service. In our time, it is impossible to see each other, and we hope that this service will become a way to connect grandchildren with grandparents, children with parents, and many other relationships. McCann Tokyo has been creative in designing this product and making it an excellent service. We are very grateful for the opportunity to work with them to develop services. "The event was developed by McCann Millennials, the open innovation arm of McCann World Group, in collaboration with McCann Tokyo. 

Ryosuke Yoshitomi, creative director of McCann Tokyo, said: "The campaign aims to encourage people to connect with each other, deepen family ties and provide better support for dementia prevention. "The challenge is to provide a service that appeals to both the smartphone and analog generations. We also want the smartphone generation to enjoy receiving their handwritten postcards, which are rare in today's world! "
The Overseas Promotion Alliance is organizing a visit to japan's marketing and marketing market
The contents to be examined are: local TOP10App; traffic alliance; net red KOL; digital marketing; data research; film and television network movies; 4A companies; outdoor media; paper media, etc
Japan promotes the island group's previous updates
From Japan to the U.S., Twitter's power outage report is the 19th issue of The Island Group
Amazon's Fire TV has announced that it's officially connected to the game! . . . . . . . . . . . . . . . . . . . . . . . . . . .
Why is it so hard to break into the Japanese advertising market? Out to sea Japan to promote the island group No. 15

A Japanese market research report, you must know before you go to sea! . . . . . . . . . . . . . . . . . . . . . . . . . . . .

Creating a Google Adwords search focuses on these four steps! Out to sea Japan to promote the island group No. 13
For more information, please contact us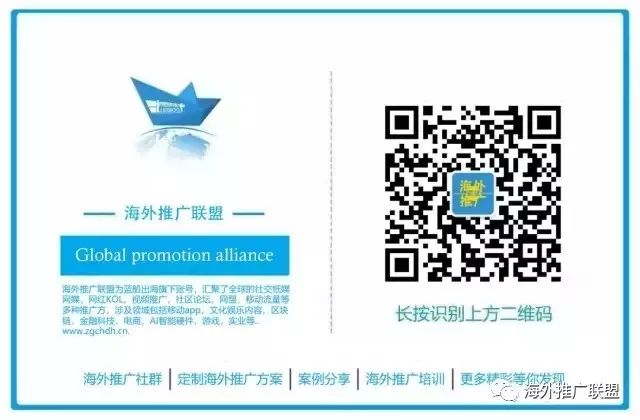 ---