From a certain voice to a blog, all want to block the truth
We seem to have been inseparable from Facebook, Twitter, Instagram, Twitter, Weibo, WeChat...
The last look before bed, the first time you wake up are them.
From unknown network red, star to familiar relatives, friends, colleagues are in the head.
And to connect with them, all you need is:
Just sign up.
When we don't have fun, few people notice that such a fun thing is...Free.???
Have you ever wondered why?
How many secrets are there besides the usual "harm"?
This year Netflix made a documentary that pierced this layer of window paper.
Some even commented on it

Monitoring Capitalism: Smart Traps
The Social Dilemma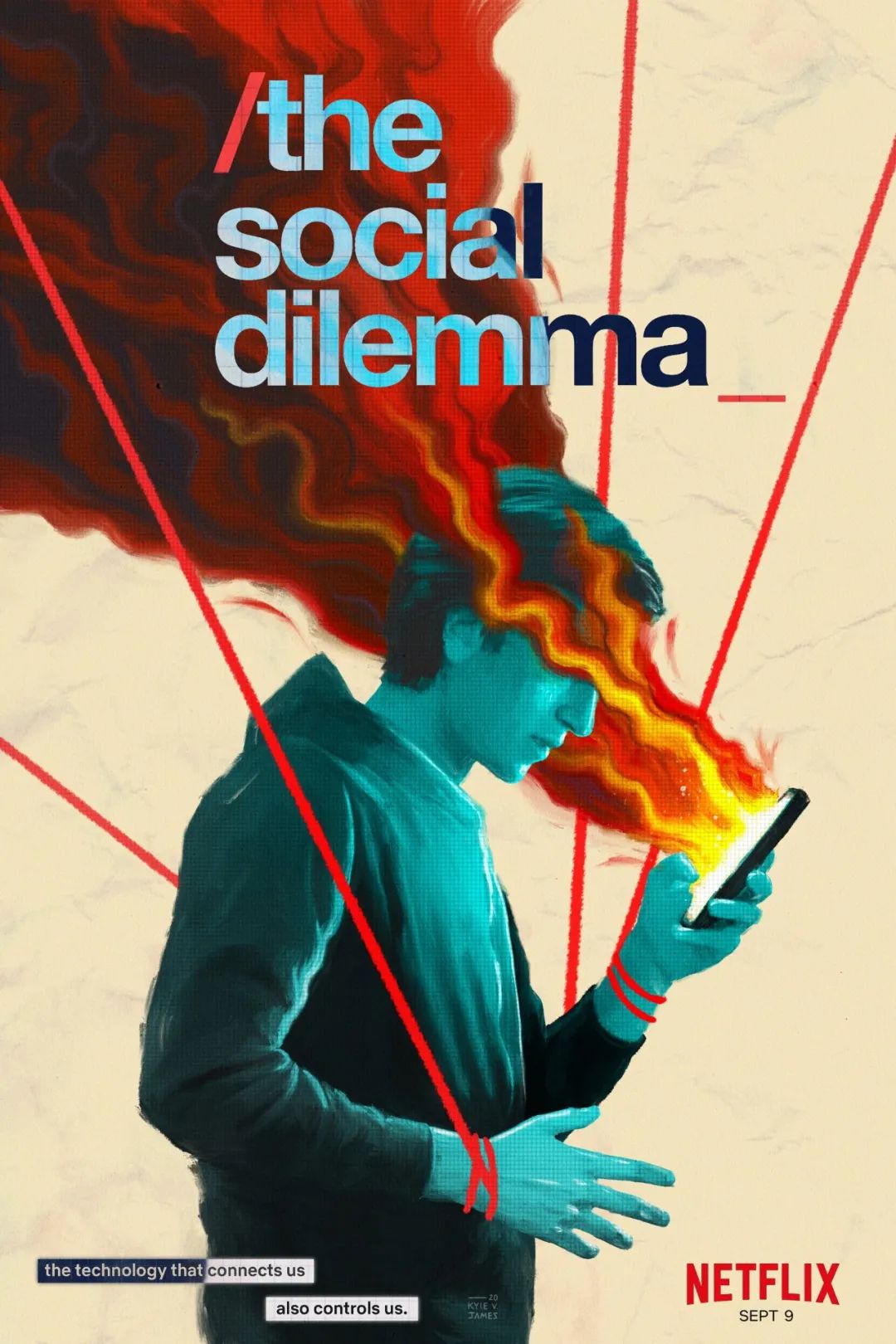 Products are made by merchants to make money.

But the user is free, that... Who's going to pay?
In the dark, Silicon Valley isSuspected trafficking in user information。
That is, when you register a product for free, the information entered is already treated as a commodity, and the capital behind the product cuts the first wave of leeks.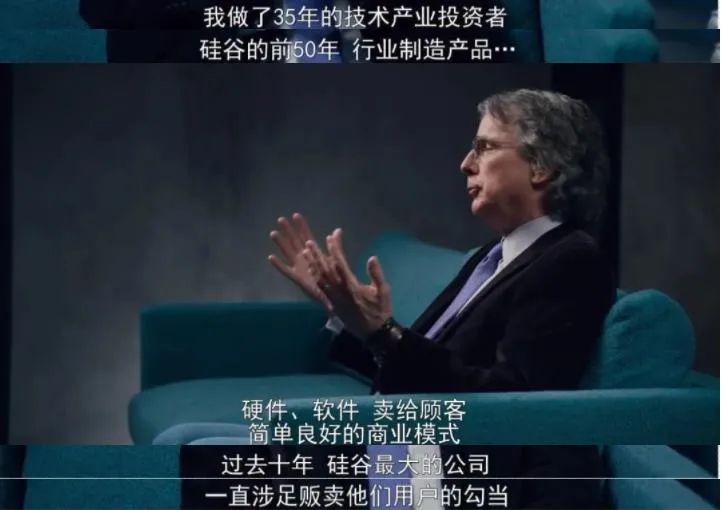 The second wave, is the bright side, advertising dad's running fee.
So why do advertising dads have to pick out these social tools from the vast channels to spend money?
Consider the standard simply rough:There are many people。
In order to meet this customer's needs, social products technology companies began to set the first step of KPIs:
Have a steady stream of peopleContinuous useUse the product.
Focus: Continuous.
How does it last?
Take advantage of people's curiosity.
A detail.
Have you noticed, whether it's a shake or a WeChat circle of friends, when you swipe up, you'll skip the old message and see a new message.
Why are these products using logic so consistently? Is it a coincidence?
There's one thing mentioned in the film:Slot machine.。
??? What does this have to do with social tools?
Imagine the pattern of slot machines constantly turning up, and the information that you swipe your fingers up...
Isn't it very similar?
Yes, whether it's a gambling slot machine or an up-and-down scroll setting that makes you either aware of the passage of time, it's taking advantage of human nature:
Turning up is a new thing unknown, come on, go on...
Have you ever complained about how you love to brush shakers, microblogs, circles of friends, brush an afternoon have passed, not self-discipline -
It's not necessarily all your pot.
but because the product uses your instincts
All human instincts.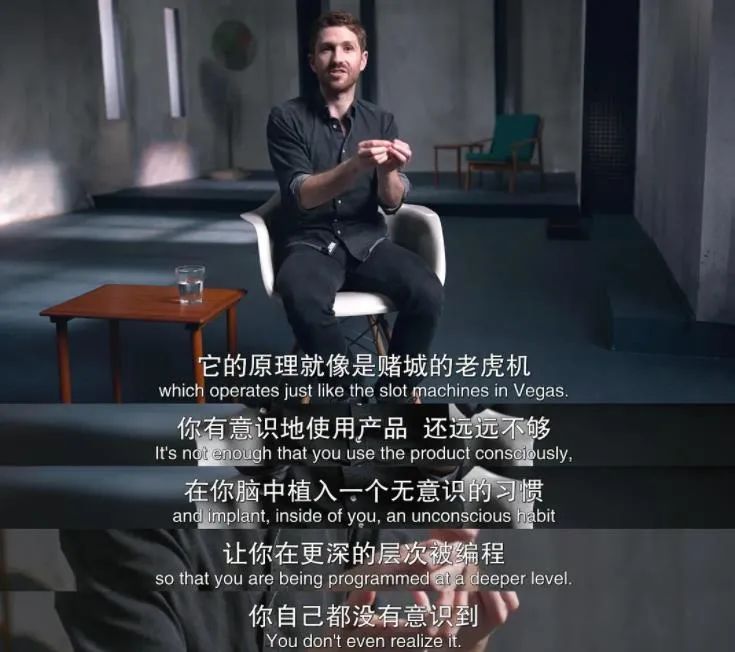 In order to keep a firm grip on your appeal, product managers and engineers have also helped you design other features that fit your instincts.
Like you're lazy.
Good! Give you an expression bag that doesn't have to type your own, and reply automatically.
This way, to the maximum extent possible to prevent your lazy cancer attack, suddenly offline.
For example, in order for you to return to the software from time to time to continue to use, when you concentrate on your work and study, the phone that is clearly and quietly set aside will automatically light up:
Ding dong! A new message.
You're distracted again and you're back on the product.

This is to develop your habits and viscosity of the product.
So how do you get more people to use this product?
Or take advantage of human nature.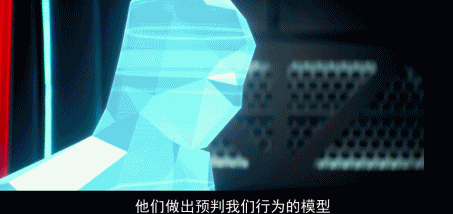 Have you ever thought about it, why would you be happy and fulfilled if someone liked you?
Humans were originally group animals, and in order to better work together to inject natural design into our genes, we must obtain themSocial recognition。
Behind a little compliment is the genetic setup that existed millions of years ago.
So the temptation that comes out of this bone is really hard to refuse.
So the question is, how can we keep getting this good experience?
Invite more friends to interact with you.
Look, unintentionally, social software is getting more and more lively,You've also become a laxinThe user's behind-the-scenes pusher.
Isn't that what the capital behind the product wants to see most?
Don't worry, there's more.

What does the customer's father still care about?
The advertisement was sentAccuracy。
You know, in business, every precise scale means an increase in real money.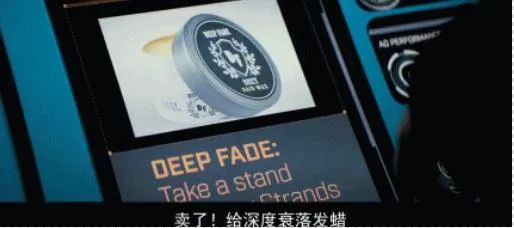 How to achieve continuous improvement of accuracy?
At first, they set the user like a mouse in a control experiment in groups A and B.
As the experiment becoming more complex, they designed a matching algorithm...
Monitor your behavior.
At the other end of the screen, they're like having a voodoo doll that corresponds to us. Everything we do, every place we click, is closely monitored.
What have you seen?
How long did you stay on a picture?
You can also speculate on your mood:
Is it depression or happiness?
Is character introverted or extroverted?
Then push content that resonates more easily with you.
These.Algorithms can even predict our next step.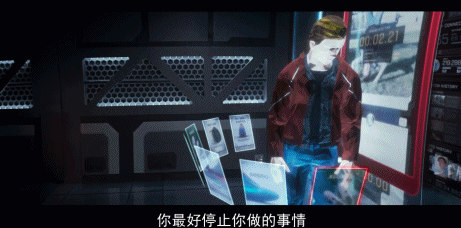 Technology companies can regulate target groups as they please, depending on the needs of advertisers, as simple as twisting a button.
A little more French users today, a little more women today...
So which company has a more accurate algorithm, which company can take the top position in the capital competition.
To this, as long as you have been increasing the number of times you use the product, keep pulling friends in to play.
The company can continue to receive advertising, constantly just rice, and constantly make money.
In this process, the original free use of the product users, from the original "earn a lot of money, do not have to spend money can play" the illusion of awakening -
Under technology, they have long been a bargaining chip for technology companies to make money.
Even became a human puppet manipulated by engineers without knowing it.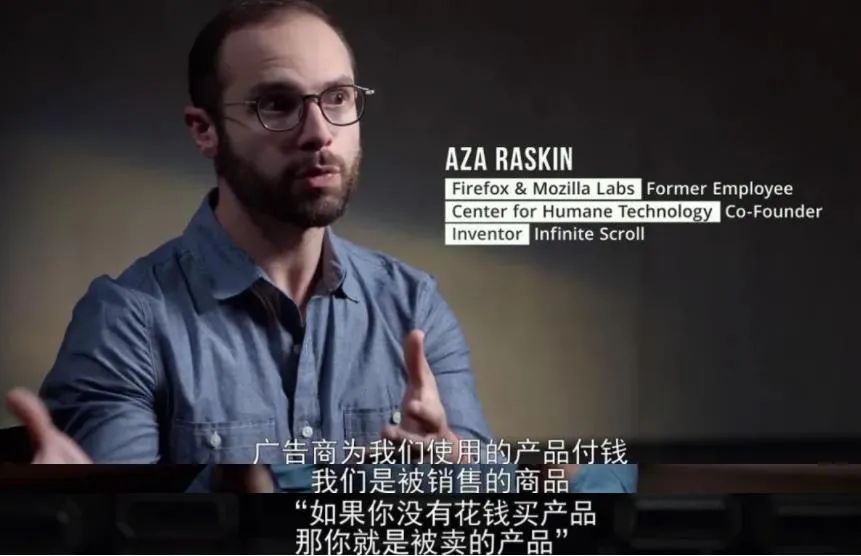 After all, in this world.
There are only two things that would call the person who uses it a "user" rather than a "customer."
A social software.
The other is drugs.
Products are designed to be profitable.
Without paying, we become the "product" in the eyes of paying advertisers.
But even if we know the truth behind this, we can't help but want to use it.
Why?
One word:
Addiction.。
An addiction that you can't control, or even detect.
Former product design engineerTristan.Tell me about a childhood experience:
I began to learn magic when I was 5 years old.
I can fool an adult with a Ph.D. Magicians are almost the earliest neuroscientists and psychologists who know the most about a part of your mind that you don't even realize makes you hallucinogenic.
Doctors and lawyers know how to construct planes and nuclear bombs, but they can't know their minds better than magicians...
How fragile it is!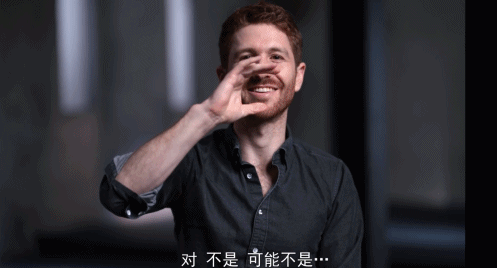 As you can imagine, social software is doing this big magic.
This "magic" is called:
dissuasion。
Facebook's Uber and other key players in the company's earnings growth have learned the lesson
How to make technology through deliberate design, more persuasive users.
For example, swipe down with your finger to refresh.
A small action, there is a special noun in psychology:is actively strengthening。
The point is, you'll keep brushing.

That's enough.
There is also this kind of technical staff operation is called "growth black technology".
Their job is to blacken people's hearts.
Chamas Parihapitia was Facebook's first head of growth and is well known in technology.
He pioneered a number of growth tools that allowed Facebook users to grow rapidly.
They use these AI engines on us, do reverse programming, and write responses that tempt us.
It's like simulating nerve cells in a spider to see what causes it to react

This is a virtual prison experiment.
Later, these tactics became even the standard tactics of Silicon Valley.
Many other companies, such as Uber, have adopted it.
Even more frightening, this prison experiment also binds people into the matrix, affecting their real lives.
The boy who was chatting with his classmates over the weekend was attracted by the news pop-up, and face-to-face communication became a reality.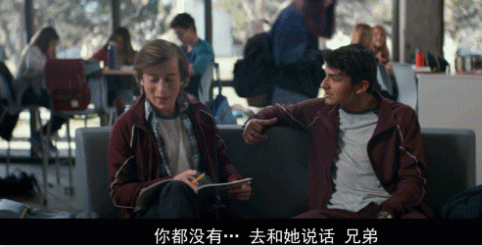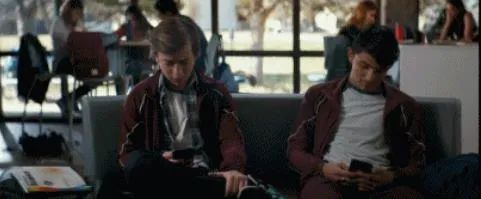 At the family dinner, the child picked up a hammer and smashed it into the phone storage box, only to get his mother's phone temporarily put back immediately.
Communication failed, and other family members, who were bored, began to play with their mobile phones.
To this, you may feel, in terms of going, this is at best the technology company in order to make a profit, affecting the daily behavior of countless users, I know ah! It's a common said.
Indeed, this is not the most destructive.
This technology is changing the world in a more subtle, more powerful, and more unpredictable way.
When technology is designed and constantly self-optimized, in fact...
It has learned"Machine Learning"。
And that, too, has led to a series of knock-on effects from social software that have exceeded human expectations in the first world.
Technology is no longer the control of an engineer or a company.
Technology began to operate independently of humans.
Things are starting to get out of hand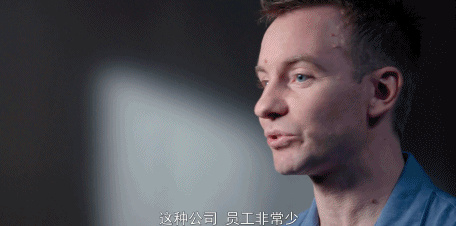 For example, designers first designed the likes feature to make it easier for people to express love and convey feelings.
Later, people gradually began to compare with each other in the process of use, love vanity.
Take pictures to beautiful pictures, each circle of friends to measure value with a few likes...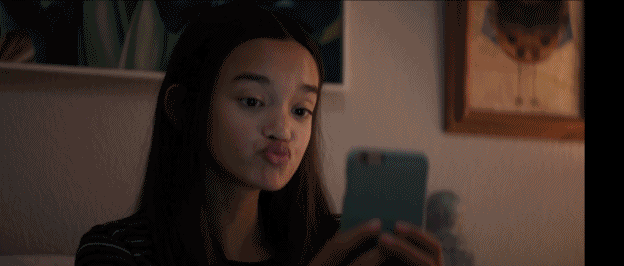 Especially the generation born after 1996.
They are the first children in history to start using social media in junior high school.
They pick up their phones when they get home from school, and on the one hand, they have digital comfort when they're bored.
But on the other hand, they also lose more social training to face up to difficulties and uneasiness, so their ability to regulate psychologically is even worse.

And we have evolved an instinct to win over others in order to better live as a group.

But when social media makes us need to brush the circle of friends every 5 minutes at a frequency of social networking, and

When you get 10,000 personal approvals,

Is all this within the reach of an ordinary human being?
So children who grow up in this environment are more likely than young people of any age to be anxious, depressed, vulnerable, and afraid to take risks.

The rate of suicide among them is much higher than in any other era.

The figures show that even the proportion of people who dare not take risks has fallen sharply.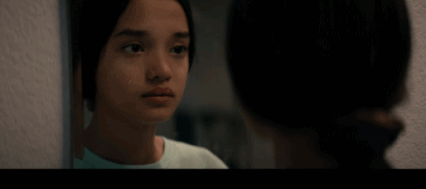 For example, designers start out optimizing social software to facilitate communication between people.
But did not think that, with the rapid development of technology self-optimization, the online world of social and realistic normal communication has become aAI vs Human Braintest.
People generally think that people who are addicted to mobile phones can't help themselves because they don't have enough willpower.
To be clear, you'll hate him for not being self-disciplined enough.
The data show that in fact, the annual rate of update of algorithms and technologies in social software is increasing exponentially.
But what about the human brain?
The evolution of living things has been extremely slow
As modern humans, we are not much different from the ape era.
So self-discipline with AI PK brain control?
We're not meant to do it!
So the most magical effect is:
Engineers initially designed social software to "get people closer together", but it backfires in reality.
When you look at the girl you like, finally pluck up the courage to look up, open your mouth is wanting the phone...
She raised her cell phone... Just to send a photo in the virtual world.
Human courtship has been interrupted by modern technology, and the possible connections have come to an abrupt end, not to mention the reproduction of human species.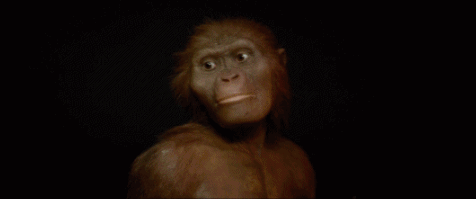 And what's even more frightening is that.
Day personally designed this social product engineers, at night home, knowing that their two children need the love of their father, but still can not control to pick up their own set up their own "attractive" mobile phone ... ...Played up.
Just as hunters who set traps during the day and come home at night voluntarily jump into the abyss while conscious.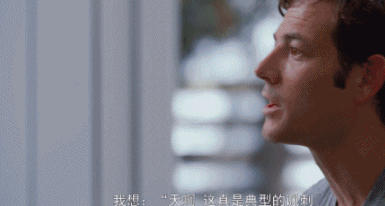 The "side effects" of these AI out-of-control are the same for one person and the same for a country.

Algorithmic mechanisms that accurately capture user preferences and constantly push what they like are meant to soak users in honeypots.
But did not think, and in turn produced a great power of destruction.
Rumors, for example, are always more eye-catching than real news.
But the algorithm doesn't tell the truth, and it pushes people who prefer it based on its popularity.
To put it this way, the algorithm pushes rumors to people who are more likely to believe them.

This, fake news has the technology to promote it.

When the harm is multiplied, a bad rumor can also trigger a real-life vicious event:
Someone robbed a pizzeria at gunpoint.
When the police arrested the gangster, he muttered:
Pizza gate.
It turned out that there was fake news that every pizzeria was a children's rebellious trading centre.
Every pizza you make suggests that one more child is locked up in the store's basement waiting for a deal.
So this guy's still fighting chivalrous?
Well, the robbed pizzeria doesn't have a basement at all.
You might ask:
How could anyone believe such a rumor?

The premise of your question is that you have the same education and see the same world that is not much different.
The problem now is...
More and more precise algorithms make the world that each of us see more and more different.
Everyone indulges in their own convergence of their own information.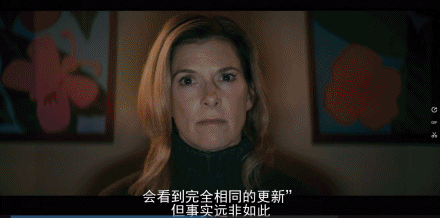 As a result, it is becoming increasingly difficult for us to accept different views from ourselves, and our understanding of the world is becoming more and more one-sided.
The designers of social software were asked what was the biggest concern about the technology.
He looked 挲 chair and said:
Civil war.
Yes, when the algorithms of social software can already change a country's vote in reality and exacerbate social conflicts...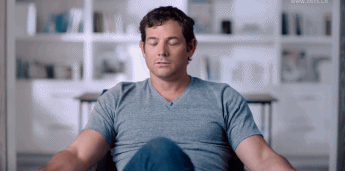 Facebook did an experiment called the Mass Spread Experiment.
Experiments have shown that they can regulate more people from voting in midterm elections by affecting real-world behavior and emotions.
The scariest part is that users don't even know they're being influenced.
When this ability, which cannot even be described in a way that cannot be described in a way that is relevant to the future of the country, is no longer just a matter of a few people, a few groups of people, behind social technology.
Like ink spreading in clear water...
It is possible for everyone to be directly or indirectly involved in this "matrix", and none of them are spared.
There are even a number of politicians who have come forward to call for:
People don't make friends with each other anymore...
Separate government is destroying our country, and a normal adult can't do that...

We need to have some common understanding of reality……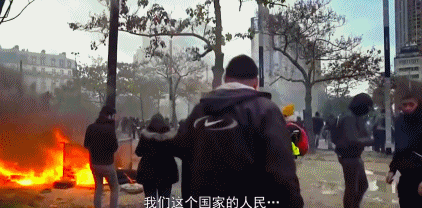 Each of us will suffer.
From being persuaded by engineers to being tamed by algorithms.
We are manipulated from virtual behavior to real-world action.
Is everything in front of us still true?
Are our every move really spontaneous?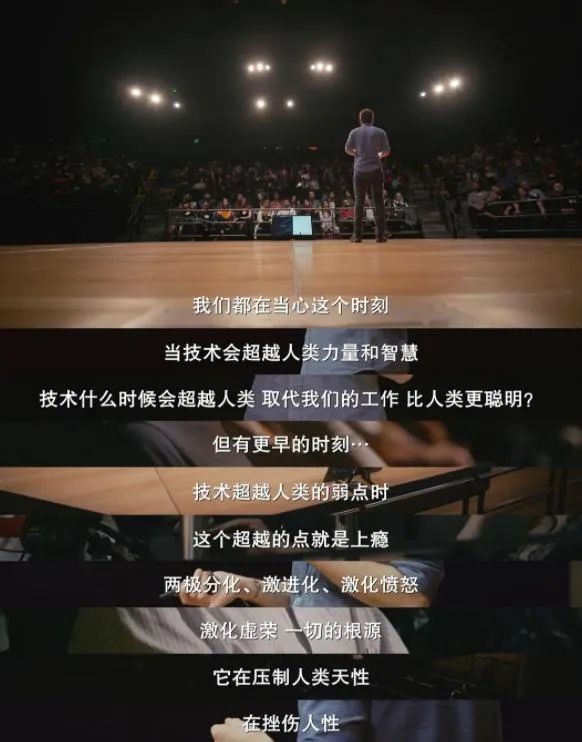 Remember the director in "Chumen's World" who said he was ashamed to face Chumen, who had been trapped in the illusion for the first half of his life:

What is presented before your eyes is true.
Is it?

Chumen doubted life in bewilderment and pain.

The director played God in his own right.
The boundaries of true and false, magical reality have been quietly erased.
Unso controlled technology can be the devil.
It not only hangs over a person's life, it even affects a country, even human civilization.

Look, people who walk down the street and keep bowing their heads and playing with their cell phones.
A person who is driven by technology.
They're more like a self-conscious puppet...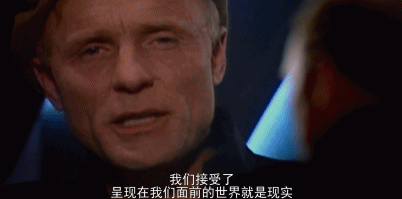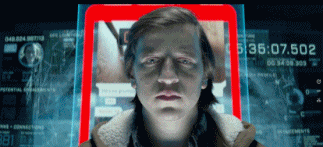 Edit:I'm'm not

Uncle Meat guesses you like:
(Click on the image to view it)


   Look, the people who bow their heads in the street
How many.Lost in algorithms
↓↓↓
---