A quick overview of the week: A few TikTok data you might be following / Bar Tie banned TikTok

Sensor Tower: Jiyin and TikTok were the world's top mobile app revenue champions in September
In September 2020, TikTok and overseas versions of TikTok attracted more than $130 million in global App Store and Google Play, 7.9 times more than in September last year, according to Sensor Tower Store Intelligence, again toping the global mobile app (non-gaming) revenue list. Of these, about 89 per cent came from China's version of Jiyin, with the US second-largest market contributing 6 per cent and the Turkish market third at 1 per cent.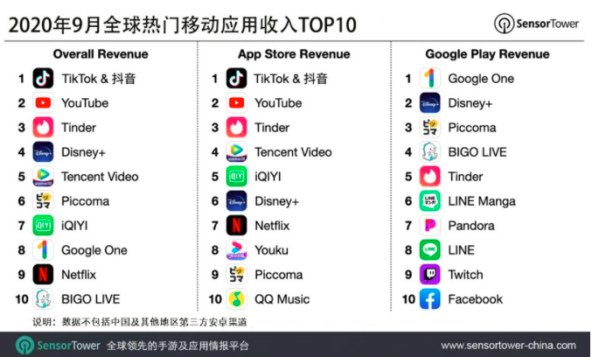 TikTok European user data
According to data compiled by Bloomberg:
The total number of monthly users in Europe exceeds 100 million;
(The following data may be up to Q2 2020)
Key market data:
UK: About 17 million users (about half of Facebook), opened an average of 13 times a day, with an average length of 66 minutes, 40 per cent of 18- to 24-year-olds, 42 per cent of 24-year-olds and 65 per cent of women;
Germany: about 10.7 million users, 18 years old and users accounted for 76%, 75% are women;
France: about 11 million users, 18 years old plus users accounted for 66%, the average length of use 60 minutes;
Italy: about 9.8 million users, 18 to 24 years old users accounted for 30%, 24 years old plus users accounted for 36%;
Spain: about 8.8 million users, 18 years old plus 66% of users;
The most fanatical countries:
Norway: About 1.2 million users, opened an average of 17 times a day. The average usage time is 74 minutes.
TikTok oversteed Instagram to become the second most popular social app for teenagers in the United States
TikTok has overtaken Instagram to become the second most popular social media app among U.S. teens, according to a report released Tuesday by Piper Sandler.
The report found that 34 percent of teens rated Snapchat as their favorite social app, followed by TikTok, and 29 percent chose TikTok.
The Pakistani government has banned it TikTok's decision
On October 9th Pakistan's Telecommunications Authority (PTA) said on Twitter that it had issued a directive banning the app in light of the number of complaints from different segments of Pakistani society about unethical/indecent content on the video-sharing app TikTok.
The U.S. judge decided that it would be inA hearing on TikTok's injunction was held on 4 November
A U.S. judge has again said a hearing on the TikTok case will be held on November 4th, which will decide whether to block a total ban on TikTok in the United States, Reuters reported on October 6.
Although the outlook is uncertain Procter and Gamble, Danon and other advertisers still stick to itTikTok
Major brands, including Procter and Gamble and Danone, have offered to spend money on TikTok, although the outlook for TikTok remains uncertain, according to Caixin.
Although TikTok's advertising business is still in its infancy, it has attracted some well-known advertisers, targeting millions of teenagers who use TikTok. Because of the stickiness of users and the continued enthusiasm for creativity and interaction, advertisers' campaigns on TikTok are spreading faster than on other social media platforms such as Facebook and Instagram.
John Petty, head of social strategy at creative firm W.K. NY, commented: "TikTok embodies what social media stands for in advertising today. His company has worked with TikTok advertisers, including Procter and Gamble, Samsung and confectionery maker Trolli.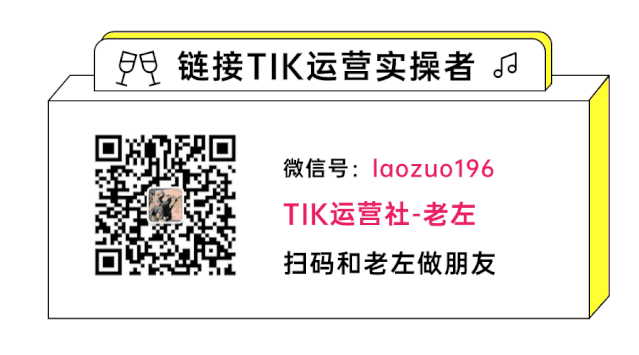 ---